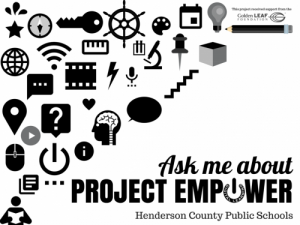 It all began with a single question: How can we better support the needs of our students? We need to ensure the students of the Henderson County Public Schools are given the skills and tools they need to be successful both now and in the future. With interdepartmental research and brainstorming, the concept of Project Empower was born. HCPS wants to make sure that students are empowered to achieve more, reach higher, solve problems, be creative, think critically and work collaboratively.
Knowing that devices themselves do not empower the students, teachers of varying grade levels levels have attended professional development sessions and ongoing professional learning communities in order to learn how to integrate the technology tools into their curriculum. Teachers continue to discover how to use these tools to support instruction and increase student engagement.
Project Empower will continue to grow in order to impact K-12 classrooms throughout the district with the help of the Friday Institute, the Golden LEAF Foundation, state and local funding, district leadership and our experienced professionals. We will build internal capacity to impact more students and support continued professional development.