Hearing Google has a huge list of lessons and training videos for teachers, students and families may be surprising at first. However, Grow with Google is offering a free curriculum specifically targeted towards helping students enhance the digital skills that will help make them even more prepared for a myriad of employment opportunities in the future.
Yes, lessons may cover the use of spreadsheets and databases, presentations, email and other basic digital skills, but the projects included use real-world applications and promote the use of multiple problem-solving strategies paired with collaboration. These projects can support students' skills for the jobs of tomorrow, but they are also vital skills they can put into use in their classrooms today!
As mentioned, teachers can utilize these free lessons by logging into Google for Education's Applied Digital Skills page and set up its use with Google Classroom. Students and families can also register to utilize the site's information and videos, just indicate your role when you register.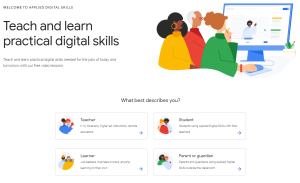 ---