We are now booking for summer groups and tours! Call 828-891-6585.
Docent Training-June 15 11:30 AM. Historic Johnson Farm is looking for volunteer docents to help lead house tours for the public and for school groups. This training will help familiarize volunteers with the history of the farm and will provide material on giving house tours. Call the farm with any questions.
Historic Johnson Farm is a heritage education museum owned by Henderson County Public Schools.  It is managed by volunteers and Friends of the Farm through the Henderson County Education Foundation, Inc.  It offers school field trips, historic home tours, nature trails, picnic tables, animals and 10 historic structures on 15 acres of forest, fields and streams.  It is listed on the National Register of Historic Places and has been designated a North Carolina Cultural Treasure.  Only three school systems in the US own a farm.
Want to see the Farm? Watch our informational video.
Follow us on the Farm Facebook Page
Farm Hours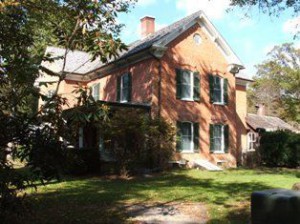 The grounds of Johnson Farm are open to the public during the school year Tuesday- Friday, 8:00 am- 4:00 pm.* Beginning the week of June 18 through August 10, the farm's grounds will be open Monday-Thursday, 8:00 am- 4:00 pm.   Tours of the farm house are given at
10:30 am
and
1:30 pm
. You must be on a guided tour to see the farm house. Visitors are welcome to tour the grounds on their own. The Farm follows the Henderson County Public School schedule of  holidays and closings. Weekend tours and tours at other times during the week are available by appointment only. For information about holiday closings,
check out our calendar
.
* Buildings close by 3:30 pm; grounds remain open until 4 pm.
Heritage Weavers and Fiber Artists
The Heritage Weavers and Fiber Artists (HWFA) occupy the 1920s boarding house at Historic Johnson Farm. HWFA is dedicated to preserving the Appalachian fiber crafts needed to support a frontier homestead in Western North Carolina. A visit to HWFA studis and gallery is included in your farm tour. Their gallery/gift shop is open Mon-Fri, 10 am – 4 pm; however, they will follow the farm's summer schedule. They also offer a variety of classes, workshops and a kids camp throughout the year. To find out more about membership or classes visit their HWFA website or call 828-595-9475.
Farm Location
Johnson Farm is located at 3346 Haywood Road in beautiful Hendersonville, NC.
Tours
Public tours of Johnson Farm include a tour of the 1876 farm house, a visit with the Heritage Weavers and Fiber Artists and a brief walk around the grounds. Tour days and times vary throughout the year. Find out more information about the
tour schedule and fees
. The grounds are free and open to the public for walking on operating days.
School Tours, Field Trips and Group Tours
School group tours and field trips are available free of charge to teachers and students of Henderson County Public Schools. A fee is charged for students from other counties as well as private and charter school students and other summer or after school programs. Tables are available in the meadow for carry-in picnic lunches. Sorry, no concessions available. Call 828-891-6585 to schedule a tour or field trip.
The farm is also an ideal setting for outings for senior groups or other organizations, such as Girl and  Boy Scouts . We have a special rate available for group tours. Please call the farm office if you would like to schedule a tour. A small gift shop run by the Heritage Weavers and Fiber Artists gives you the opportunity to bring home a piece of local heritage.
Contact Us:  828-891-6585