In the past, you have been able to use the File menu to see the version history in Google Docs and Google Sheets. This would allow you to see all of the versions by date, time and the name of the person who edited the file. Although this has been extremely helpful, Google is now providing ways to make this information more granular and specific. Edit history information can now be accessed for small portions of text in Docs. In Sheets, you can view version history for a single cell.
Editor Information in Google Docs
To access edit history in Google Docs, highlight the desired portion of the text. Right click on the highlighted test, and select Show Editors.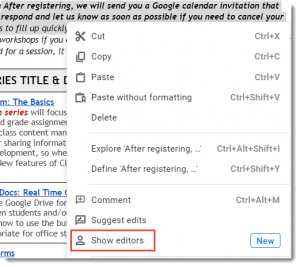 You will then get a pop-up menu that shows the edit history.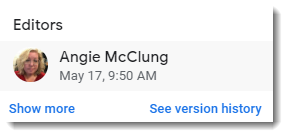 This menu provides more editor information via the Show more option, as well as a link to see the vision history of the entire document.
Version History in Cells in Google Sheets
Seeing the version history of editing in a Google spreadsheet has always been a difficult process. Now you have the ability to see it within a single cell. To access this tool, right click on the cell for which you want to view version history. Click on Show edit history.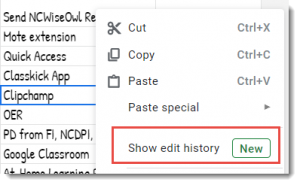 You will then get a pop-up that shows the history of editing in that individual cell.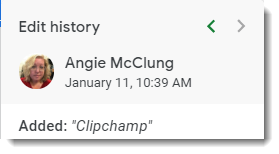 You can toggle through the left and right arrows to see past edit history with specifics on what was added, plus the date and time.
Enjoy these new tools for viewing edit and version history in Google Docs and Sheets!
---