Let's Get Even More Creative!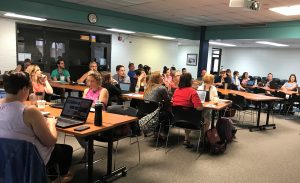 On August 21st, we had the wonderful opportunity of working with 35 K-12 Arts Education Teachers. This half day training was filled with ideas on building and sustaining a classroom environment that fosters creativity. With a foundation in the 4 Cs (Critical Thinking, Communication, Collaboration and Creativity), teachers explored ways to foster creativity by offering more student choice, acceptance of "out of the box" ideas, developing strategies to enhance creativity, supporting creative problem solving and using technology as one of the tools to complete the task.
Arts Education Teachers were introduced to various "global tools" to support their teaching and student learning.  Some of these tools included Flipgrid, Thinglink, Chrome Canvas, Adobe Spark and Google Drawings.  From using video (with Flipgrid and Adobe Spark) to using images (with Canvas, Thinglink and Drawings), teachers were provided with ideas to integrate these tools into instruction or to use them for student presentation formats.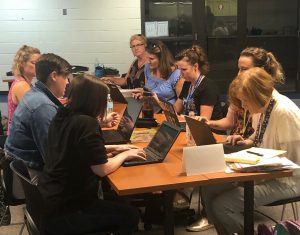 Additionally, teachers were provided with time to explore content specific tools through the use of a Hyperdoc. This exploring time led to both independent learning and collaborative planning. Some of the tools explored included Google Tour Creator, wevideo, Google Arts and Culture, Google Songmaker, Chrome Music Lab, Seesaw, Screencastify, Padlet, Lino and Google Jamboard. We could feel the creativity in the room as teachers brainstormed and discovered new ways to integrate technology into the classroom.
We are so proud of and inspired by our HCPS Arts Education teachers!
---