"Return to Learn" Plan B
Henderson County Public Schools transitioned to the "Return to Learn" Plan B model – a blend of in-person and remote learning – with a staggered entry for different grade levels, on September 21.
The Schedule & Instructional Day
To meet physical distancing requirements, the "Return to Learn" Plan B will incorporate face-to-face instruction days and remote learning days at home, on an "A Day / B Day" schedule for grades 3-12.
–– Students in PreK-Grade 2, and eligible Intensive Intervention students will attend class on campus in-person every day, beginning Monday, September 21. The instructional day will consist of traditional in-person learning from 8 a.m. to 3 p.m.
–– Students in Grades 3-12 will be split into Group A and Group B based on last name, with flexibility provided for households. Each group will alternate meeting on campus for in-person learning two days each week, and access remote learning the other three days each week. Group A will attend in person on Mondays and Thursdays and Group B will attend in person on Tuesdays and Fridays; Wednesday will be remote learning days for all students in Grades 3-12.
For Grades 3-12, live and remote instruction will continue to be provided from 8 a.m. to 12 p.m. every day except Wednesdays, which is remote only from 8 a.m. to 12 p.m. for all students. Students scheduled to be on campus for instruction will remain in school after 12 p.m. for lunch and small group instruction, as well as opportunities for social interaction and Social-Emotional Learning through the end of the traditional school day.
–– For fully remote learners through Engage RLO, remote instruction will continue to be provided from 8 a.m. to 12 p.m. every day. The Engage Remote Learning Option (RLO) will be a concurrent model, allowing remote learners to interact with HCPS teachers and peers. Families can still commit to a fully virtual first semester by registering for Engage RLO through the HCPS Enrollment Portal linked at www.HCPSNC.org.
The Calendars
To help students and families keep track of their on-campus days and remote learning days, the district Google Calendar linked on the district and individual school websites has been updated to indicate "A Days" and "B Days." Additionally, helpful graphic reminders of the weekly schedule will be shared by the district for families to reference.
This hybrid model has been approved through at least October 30, 2020, and includes changes to the 2020-21 school calendar regarding Oct. 16 and 19. Friday, Oct. 16 will now be a full day (for Group B) instead of an early dismissal day, and Monday, Oct. 19 is now an Optional Teacher Workday. Plans for the calendar beyond October 2020 will be evaluated and refined as the school year progresses, in response to the state of the COVID-19 pandemic in our community, and public health recommendations.
Staggered Start Dates
Students participating in Plan B will return to campus on staggered "start dates," based on grade level and grouping.
September 21: all PreK-Grade 2 and eligible Intensive Intervention students start on-campus
September 24: rotation of Grade 3-5 students in Groups A/B
– Grade 3-5 students in Group A start on-campus September 24
– Grade 3-5 students in Group B start on-campus September 25
September 28: rotation of Grade 6-12 students in Groups A/B
– Grade 6-12 students in Group A start on-campus September 28
– Grade 6-12 students in Group B start on-campus September 29
Individual schools will be contacting families during the week of September 14 to confirm their children's schedules in Group A or Group B.
Chromebooks
HCPS wants to ensure that students have the devices they need for participating in remote learning. Check out these facts from the Instructional Technology department for families:
Beginning August 3, if your child needs a device to use during remote learning, please go to your child's school and request a Chromebook and charger.
If your child previously checked out a Chromebook for use during Learn From Home in the Spring, please keep this Chromebook to use for connecting remotely during the current school year. Even if your child is now going to a different school, you may still use this same Chromebook for remote learning this Fall. HCPS will manage the inventory and return Chromebooks to the correct schools at the end of the school year.
If you have an HCPS Chromebook and your child is withdrawing from HCPS, please return your child's borrowed Chromebook to their school as soon as possible
If you need Internet connectivity assistance, HCPS is still offering wireless access in school parking lots, and are working on additional options for access. For those families that are still unable to access remote learning digitally, students will be provided with either hotspot access and/or paper and text-based alternative assignments. Please let your school know if you are unable to access the Internet to help focus our efforts in supporting our families with limited connectivity during remote learning.
Supports & Resources
Remote Learning Resources like this "Commitments for Remote Learning Success" sheet for students, and instructional videos on using Chromebooks and Google Classroom are available for Students and Families and Teachers.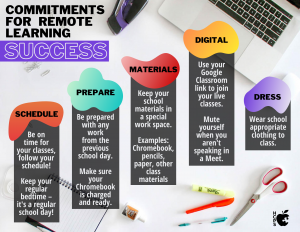 Tech Support: The "Learn from Home Help Desk" has been expanded to offer a dedicated phone line for tech support for students and families in multiple languages. Call 828-435-3480 or email learnfromhome@hcpsnc.org.
In-Person Support: During Plan C, students may schedule on-campus tutoring and support by appointment. Contact your child's teacher or school counselor to request individual appointments.
ESL Family Center: For assistance in Spanish, families can contact the ESL Family Liaison at 828-388-2632.
Internet Accessibility
Families without internet service in the home can request an HCPS hotspot for their student's use during remote learning, by completing the form at www.HCPSNC.org/hotspots. The Instructional Technology team will determine if home locations have sufficient cellular coverage to these support hotspots.
If unable to complete the form online, families can contact a member of their school's administrative staff or the Technology Support Helpline number (828-435-3480) for assistance in completing the online form. The information needed in order to complete the form is the family's home address, the name(s) and school(s) of the student(s) in the home, and the parent/guardian name and telephone number in case they need to be contacted for additional information.
In partnership with the Henderson County Education Foundation, HCPS is sharing a map of business and organization locations within the community offering free Internet access for HCPS students.
This Google Map online version will be updated as new locations are added. Click on the location points for hours of service and/or WiFi password, if applicable.
Families may request print copies of the most recent PDF version of "Internet Map for HCPS Families" from their schools.