[UPDATED Aug. 16, 2021]
We're excited to have all our students and staff on campus for the 2021-2022 year, and want our HCPS Family to be aware of the current work we're doing to keep students, staff, and families safe during the COVID-19 pandemic. Our district's operational plans are guided by the governor and the N.C. Department of Public Instruction, the N.C. Department of Health and Human Services, and local public health officials. All official district information on HCPS Return to Learn procedures, plans, updates, and supports will be published and linked on this website.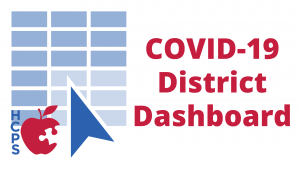 As of Tuesday, Aug. 3, 2021, HCPS resumed updating the COVID-19 District Dashboard with school-affected cases reported during the 2021-2022 school year.
The current Dashboard reflects the operations (face coverings optional) effective Feb. 15, 2022, per board decision on Feb. 14, 2022. Updates at 9 a.m. each weekday, with new school-affected cases reported the business day after the positive case is confirmed.

To begin the new school year, HCPS will send as-needed updates regarding operational plans, new health and safety guidelines or procedures, and "Return to Learn" school board decisions to parents and guardians through email notifications. To ensure delivery of HCPS notifications through SwiftK12, please contact your child's school if your contact information needs to be updated in our system.
Depending on the evolving nature of the COVID-19 pandemic, regular "R2L Weekly" updates on Thursdays may become necessary later in the school year, at which point various delivery methods will be considered.
Check the R2L: Communications section for official district messages, including:
"2021-2022 Return to Learn FAQs" in English and Spanish
"Return to School" flowcharts updated for the 2021-2022 SY
"What to Expect When There is a COVID-19 Case in a School" infographic
Webposts regarding Return to Learn planning, procedures and important information for the 2021-2022 school year
An archive of "R2L Weekly" updates from the 2020-2021 SY

The R2L: Health & Safety section has information on procedures HCPS has put in place to ensure the safety and health of our students and employees, plus tips from public health partners to promote the continued safety and health for our students, staff, and HCPS families.

The R2L: Student Learning section shares information on how HCPS will continue to provide all students the opportunity to learn and the encouragement to succeed in a safe environment, including information on support for students quarantined at home.

The R2L: Emotional & Mental Wellness section offers resources for students and families to feel safe and supported in school, and know how and where to ask for emotional or mental health assistance when needed.