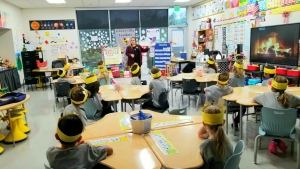 While most of us think little about how a bowl of fruit, a glass of milk, or a plate of scrambled eggs arrive on our morning breakfast plate, North Carolina's Ag in the Classroom (AITC) wants to ensure that Henderson County's youngest students do think about it.
Ag in the Classroom is a unique educational program affiliated with North Carolina Farm Bureau (NCFB). Founded in 1985, the program is dedicated to fostering an understanding of the importance of agriculture in North Carolina. The existence of the program is carried out at the local level by numerous volunteer hours of NCFB members from all 100 counties.
Since 2020, the Henderson County Farm Bureau Women's Committee has been providing agriculturally related books to public elementary schools in Henderson County.
One classroom from each Henderson County public elementary school is selected each year and receives one of the books each month as well as a curriculum that correlates. For example, a recent book about Christmas tree farming included supplemental materials for making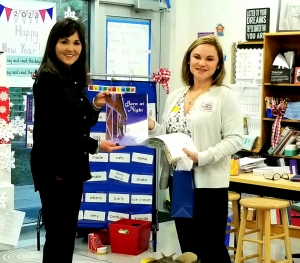 a wreath.
On Wednesday, committee chairperson Linda Pryor and NC Farm Bureau Ag in the Classroom Director, Heather Morton, presented the committee's 500th book to the students of Genee Dalton's first-grade class at Edneyville Elementary School.
Ms. Dalton herself comes from Fruit of the Spirit Orchard and Vineyard, a 3rd generation-working farm. Thus, she truly understands the importance of giving young minds an appreciation for where their food comes from and how.
Since agriculture continues to be North Carolina's leading industry, Ms. Pryor said this program, coupled with the enthusiasm of teachers like Ms. Dalton, who partner with them to incorporate it into the curriculum, is vital.
"Most people are several generations removed from farming and agriculture," she said. "If we can give kids an understanding and an opportunity to learn and get excited about agriculture and farming, it will go further when they get into middle and high school and gain an even deeper understanding of its role and purpose."