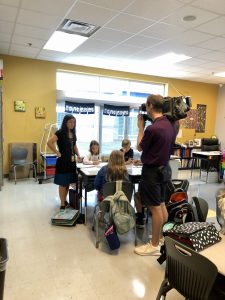 Rahni Moret, a fourth grade teacher at Mills River Elementary, received the Golden Apple Award from WYFF News 4 this morning. The Golden Apple Award celebrates local teachers who are making a huge impact on their students.
While serving as an interim teacher, Mrs. Moret was nominated for the award by a student she instructed last school year. In the Golden Apple Award Nomination Letter, Emerie Frisbee, a student at Mills River, shares why Mrs. Moret deserves the award. "Mrs. Moret always welcomes me to the class every day and it is the highlight of my day," said Emerie. "She brings out the good and potential in every student."
The nomination letter goes on to share an impressive list of distinctive qualities that make a difference in the life of every student. Although this is Mrs. Moret's first year back in the classroom full-time, she is a familiar face at Mills River where she has served as a tutor for the last five years.
Congratulations Mrs. Moret! We are happy to have you in the #HCPSfamily.
The full story on Mrs. Moret will air on WYFF News 4 later this Fall.