HENDERSONVILLE, N.C. (September 14, 2022)–Following approval by the Henderson County Board of Public Education in August and September, Henderson County Public Schools announces the following administrative changes for the 2022-23 school year: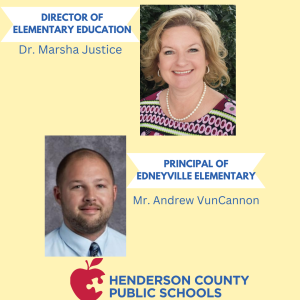 Dr. Marsha Justice has been named the Director of Elementary Education, filling the office vacated by Dr. Shannon Marlowe who is now the Assistant Superintendent of Instructional Services. Justice joined Henderson County Public Schools in 1997 as a biology teacher at East Henderson High, after earning her Bachelor of Science from Western Carolina University. In 2003, Justice continued her education career in Catawba County Schools, where she again taught biology for five years at Saint Stephens High. She returned to HCPS in 2008 when she was named Assistant Principal at Apple Valley Middle, where she served for 10 years. In 2018, Justice was named Principal at Edneyville Elementary and has served in that role ever since. During her time at Edneyville Elementary, Dr. Justice was named 2021-2022 Principal of the Year for Henderson County Public Schools, as well as 2022 Western Region Principal of the Year.
"It has been my honor and privilege to serve as principal of Edneyville Elementary for the last five years. As the Director of Elementary Education and Title One,  I am excited about a new opportunity to grow and impact students, instructional specialists, and principals across the county. It is my goal to serve and make a difference in the lives of others. I look forward to this journey" shared Dr. Justice.
"Moving Dr. Justice into the Director of Elementary Education role is a home run for Henderson County Public Schools.  Over the course of her career, she has added great value as a teacher and school administrator, and now we are excited to have her make an even bigger impact by serving at the district level." said Superintendent Mark R. Garrett.
The principalship at Edneyville Elementary will be filled by Mr. Andrew VunCannon, coming from North Henderson High School – where he has served as Assistant Principal since 2017. Prior to becoming an administrator with HCPS, VunCannon began his teaching career as a social studies teacher at Apple Valley Middle School in 2005, upon graduating from the University of North Carolina at Charlotte with his Bachelor of Arts in History. After his first year of teaching, VunCannon transferred to Charlotte-Mecklenburg County Schools in 2006 and taught social studies for 10 years at East Mecklenburg High. VunCannon was the Dean of Students for one year at East Mecklenburg High before he returned to HCPS in 2017 when he was named Assistant Principal at North Henderson. Mr. VunCannon shared; "It is an honor to be able to serve the Edneyville community, students, and teachers as Principal. This is a community that means the world to me and has a special place in my heart and was vital for my academic development."
"We are excited to announce Mr. Andrew VunCannon as the next principal of Edneyville Elementary School.  He is a dedicated Henderson County Public Schools educator who knows how to make a positive impact with students and staff.  Mr. VunCannon possesses the skill set and experience we were seeking in the school's next leader. We are confident in his ability to continue the Edneyville tradition of excellence." said Mr. Garrett.
Dr. Justice holds a Master of Science in Educational Leadership from Appalachian State University and a Doctorate in Educational Leadership from Gardner-Webb University. Mr. VunCannon holds a Master of School Administration Degree from Western Carolina University.