Amid many cheers, a few tears, and the impromptu singing of the school's alma mater, HCPS, along with city and county leaders, held a ribbon cutting this week for Hendersonville High School's comprehensive renovation project.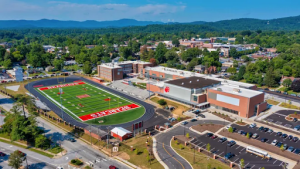 After several of the project's leaders spoke, Bobby Wilkins, a 1975 HHS graduate, was the last speaker of the ceremony and was introduced by HCPS's new Superintendent, Mark Garrett.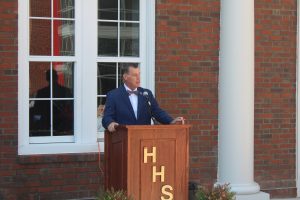 "His family has a legacy here, and he has a legacy here at Hendersonville High School. When I think 'Bearcat,' even before I arrived here in Henderson County, I think Bobby Wilkins," Garrett said.
Wilkins took the podium, and introduced all of the alumni that were in attendance. "Look at this place. Is this not beautiful?" he said. That's what this place is all about."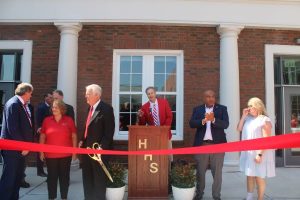 Wilkins told the audience that his grandmother was the first to graduate from the school in his family in 1908. His parents, brothers, siblings and immediate family have all graduated from there over the years.
The HHS renovation project began eight years ago. Construction began in 2019 following demolition of the former Boyd Automotive building for the new parking lot. The project was completed 11 months ahead of schedule by Vannoy Construction.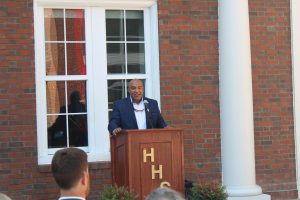 The audience learned that several traditions and sentimental touches were included in the renovations along the way. For example, the rocks on the press box wall are from the old gym, and those rocks were also used for the sign at the entrance on Asheville Highway.
Additionally, the new hallway next to the front office is now home to a trophy case. The project preserved and renovated the historic Stillwell Building and the school's auditorium, which is home to the Tom Orr Stage that was recently dedicated in his honor. Historic Dietz Field also received a complete overall. It now has an artificial turf surface and a rubberized track. A new press box sits in the same place as the original press box.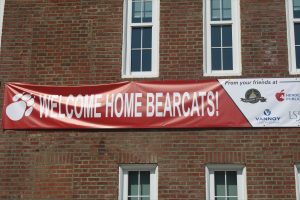 Due to the coronavirus pandemic and remote learning,  the $62 million project was completed sooner than anticipated. The campus now encompasses 82,000 square feet of new and renovated space, including the 115,000-square-foot new Campbell Boyd Building that houses 50 classrooms.
Renovation Timeline
February 2018: Demolition of former Boyd Auto building, for new parking lot
June 11, 2019: Construction of new building begins
January 2020: Demolition begins of old gym, for construction of new auxiliary gym and renovation of Jim Pardue Gym
November 2020: New building construction completed
May 2021: New auxiliary and renovated Jim Pardue gyms completed for Class of 2021 graduation
December 2021: Dedication of new Campbell Boyd Building
February 2022: Renovation of Stillwell auditorium complete
May 2022: Installation of artificial turf begins on Dietz Field
June 2022: Dedication of Thomas E. "Tom" Orr Stage in Stillwell auditorium
Aug 3, 2022: Ribbon cutting of completed campus
*HCPS Photography by Kevin McCall. Drone photograph of HHS taken by Jack Elka for the Hendersonville Times News