The road to a high school diploma starts long before senior year. In fact, as early as elementary school, teachers and administrators are on the lookout for signs of students at risk of dropping out in high school.
That's why administrators at East Henderson High and feeder school Hillandale Elementary are working together to build connections between their schools and raising graduation awareness among elementary students.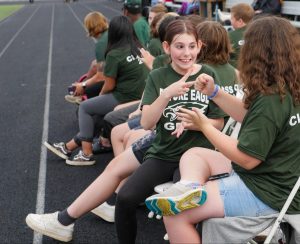 On Friday night, Hillandale Elementary 5th-graders got a front-row seat at East Henderson High's graduation ceremony on EL Justice Field.
"East set up chairs for the kids on the track," so the graduates walked right by the 5th-graders on the way to get their diploma, said Hillandale principal Katie Bradley.
Bradley, a former East administrator, said she and East principal Brandon Scott want to give the elementary students a "vision for what is to come."
Bradley said, "My favorite night when I worked in high school was graduation night. It is a huge accomplishment, and I want (my students) to see that, to experience that, and have some fun."
Scott said he was excited to have the Hillandale students at graduation this year, "soaking it in, watching the experience, the ceremony."
"Kindergarten through 12th grade is a journey. There are connectors, not just through the teachers but through the schools," said Scott. "So I want to do everything we can to make the teachers and schools feel connected."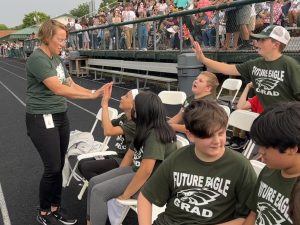 To further instill that connection in her students, Bradley surprised her 5th-graders with "Future Eagle Grad, Class of 2029" T-shirts, which they all wore to East's graduation ceremony Friday night.
The day before, Hillandale 5th grade teacher Tara Hammond had her students thinking about what that day might look like for them in seven years.
"I had my students write a letter to themselves for the day they graduate high school," said Hammond. "Words of encouragement, reminders of what goals and interests they had as 5th-graders."
And when graduation day comes for her Class of 2029, Hammond said, "I plan to mail (their letters) to them."
Bradley and Scott hope that by witnessing the ceremony and experiencing the contagious excitement of graduates and their families, the elementary students will get excited for their future and consciously work toward the goal of a high school diploma. And eventually, they hope to expand the tradition to East's other three feeder elementary schools.
"This is important for students to see as a long term goal," said Hammond.