The only one of its kind in Henderson County Public Schools, the Latin Club at Bruce Drysdale Elementary will be graduating its first cohort of Latin learners next week!
This year, 2nd grade teacher Alejandra McCall has offered an extracurricular Latin Club for 4th and 5th graders at Bruce Drysdale, taking a multidisciplinary approach to teach students Latin and the history of the Roman Empire.
A teacher in the school's Dual Language program whose first language was Spanish, McCall knows firsthand the important connections young language learners can derive from understanding Latin and its roots.
"I studied Latin in college," said McCall, who's now a polyglot fluent in six languages.  "I'm a strong believer in learning as many languages as possible," she said.
For those students who are taking classes in both English and Spanish through the Dual Language program, learning Latin is beneficial because they can connections across the two languages, McCall said. And, "60 percent of the words we use in English come from some sort of Latin root. So it's important even for kids not in the Dual Language program," she said.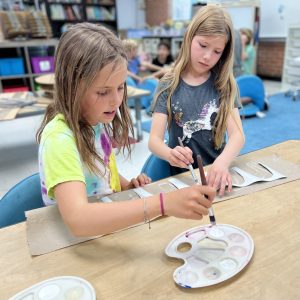 Through collaboration with art teacher Emilee Hansen, the 16 students in Latin Club have recreated the Colosseum out of cardboard and construction paper, and learned "Dona nobis pacem," under the direction of music teacher Carisssa Mathis. The students have also conducted research on topics of their choice – ranging from the historical clothing and medicine of the Roman Empire to gladiators and Julius Caesar.
On Thursday, May 12, the students will present these research topics and perform "Dona nobis pacem" for their families and renowned Latinists specially invited to the Latin Club's graduation. From UNC Asheville, Chair of the Classics Department and Classics Professor Dr. Lora Holland Goldthwaite, and Classics Professor Dr. Sophie Mills will be in attendance to see future Latinists earn their laurel wreath.
The 4th- and 5th-graders completing this first year of Latin Club will return next year for the second section of curriculum, meaning Latin Club will be expanding to include 6th graders, in addition to a new cohort of 3rd- and 4th-graders starting their first year of extracurricular Latin lessons.
McCall is excited to see students have such enthusiasm for a language that too many consider extinct.
"Whenever people talk about 'dead languages,' Latin is the first that comes to mind," she said. "But as long as somebody's learning it, and somebody's teaching it, it's not dead."