"Arts fairs" are opening doors for elementary students thinking about picking up a musical instrument when they start 6th grade, and removing the financial barrier for families.
Sixth grade is the pivotal time when students can explore band or orchestra programs that they can continue through their high school years. However, "The cost of instruments is often a barrier to some of our families who would like for their children to participate," said Dr. Marcie Wilson, Director of Student Achievement.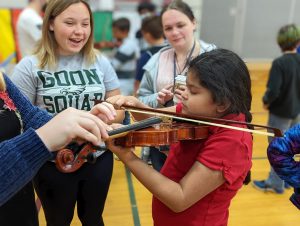 That's why in the fall of 2021, HCPS allocated $200,000 in federal Elementary and Secondary Schools Emergency Relief (ESSER III) funds to support equity in music education.
"We don't want any student to avoid participating because they can't afford an instrument," said Dr. Wendy Frye, Assistant Superintendent for Instructional Services.
The funds are being used to purchase affordable instruments to supplement those already provided by middle and high school music programs, including cellos, violas, upright basses, French horns, oboes, saxophones, clarinets, drums, and xylophones.
The allocation is also providing wind instrument try-out kits, so elementary students can safely test how mouthpieces of different instruments feel during the "art fairs" with older school student leaders.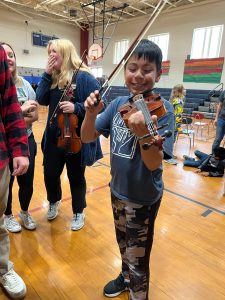 High school and middle school band and orchestra students are visiting their feeder elementary schools to recruit for their music programs, performing for the younger students and giving them hands-on lessons with their instruments to show them the opportunities they'll have starting in middle school.
"As part of our arts fairs, we're telling our families that every 6th grader that wants to join band or orchestra has an instrument to play," said Wilson.
This week, the East Henderson High School orchestra, directed by Jennie Quinn, visited Hillandale and Upward elementaries. High school students shared their love of music with their younger counterparts, patiently teaching them how to hold violin bows and place their fingers on strings.
"For students to be able to try out mouth pieces and actually make a sound, or hold a violin or viola and make a sound – just the look of wonderment has been amazing," said Wilson. "A lot of them think, 'Oh I can't play that.' This proves to them that they can."