Gary Blackwell (3rd from left) is NCCAT CTE Teacher of the Year for HCPS!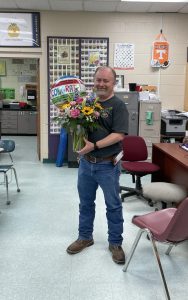 North Henderson High's Gary Blackwell has been named as the district's first ever North Carolina Center for the Advancement of Teaching's Career and Technical Education (CTE) Teacher of the Year!
An Agriculture teacher at North, Blackwell established himself as a leader in the school for the past 15 years. Blackwell has worked hard to establish a robust Agriculture program, and an active Future Farmers of America chapter that has successfully competed at the state level under his leadership.
In its first year of existence, NCCAT's CTE Teacher of the Year program offers district-level nominees the opportunity to engage in professional development through NCCAT in Cullowhee, where Blackwell will be competing against teachers from other districts for the honor of NCCAT Teacher of the Year.