Through the midday mist of a light falling rain on Friday, Oct. 29, 10-year-old Carson watched in silence as a large green medic's helicopter descended on the Etowah Elementary field where he and his classmates usually play sports.
"My grandfather had to be taken to the hospital in that helicopter last year," said Carson, a 5th grader at Etowah. "He crushed his arm really bad and had to be taken to the hospital in the helicopter to get him there super fast."
Over the last week in October, Carson got to see exactly how his grandfather and thousands of other individuals are airlifted to regional hospitals each and every year for life-threatening injuries.
The Mountain Area Medical Airlift, or MAMA, as it's known across Western North Carolina, made a special visit to Etowah Elementary to cap off a week-long slate of activities observing National Fire Prevention Month. Schools normally schedule their fire-prevention days with area fire departments in early October, but inclement weather prompted some Henderson County Public Schools to reschedule their activities to the last two weeks of the month.
That Friday, surprised squeals of delight went up in tandem across the parking lot as students realized the nature of the "big secret" their teachers had been keeping from them all week.
One-by-one, each grade level was ushered to the parking lot flanked by fire trucks, firefighters, and other first responders all working closely with the crew of MAMA as it approached. Teachers told the students to listen carefully for what was coming in the distance.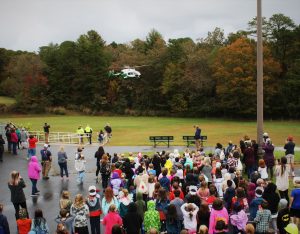 A firefighter with Etowah Horse Shoe Fire and Rescue radioed, "Go ahead MAMA 1, cleared for landing," as students waved and jumped up and down, forgetting all about the chilly temperatures and intermittent rain.
MAMA provides air medical services to 18 western North Carolina counties, eastern Tennessee, northeast Georgia and northern South Carolina. From premature infants in respiratory distress to serious traumatic injuries, MAMA's nurses, paramedics and respiratory therapists are trained to provide quality care in transport under medical direction from Mission Hospital.
Nurse Paramedics Carrie Underwood and Roy Barlow joined Pilot Andrew Mollo in answering questions and pointed out features of the helicopter as students walked around it pointing and whispering among themselves. For many, it was their first time to see a helicopter up close – especially sitting in the middle of their playground.
Mollo said he and his crew enjoy coming to the schools when they can so more children can see how emergency services collaborate with fire departments and other first responders to save lives.
"Fire departments just do so much more than just fighting fires," said Dr. Amanda Childers, Etowah Elementary's principal. "They work closely with all the emergency medical responders, including MAMA, in our region."
Childers said that having both MAMA and the fire department participate in fire prevention activities together illustrated the interconnectivity and coordination of emergency response, and provided an excellent example of the importance of working together toward a common goal.
"This demonstration certainly supports that teamwork mentality and the importance of interpersonal skills," she said. "At Etowah and all of the schools in HCPS, we are striving to not only teach academic skills, but also teach social skills. Because as educators, we know that our students will need to be able to work together with others to solve problems in their future careers."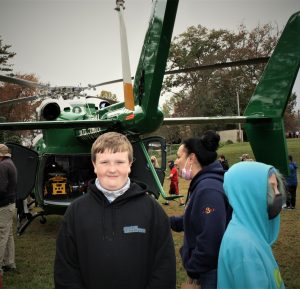 Andi Marshall, HCPS Small School Administrator serving Etowah Elementary, agreed. "These kids may never choose a career like this, but they will remember the collaboration and how people come together in teamwork," she said.
"Plus, seeing a helicopter is so cool!" Dr. Childers added.
Not only is it a cool experience, seeing a medic helicopter at school could make its presence in a real-life emergency a little less intimidating for students.
"Fire prevention as a whole is important all year long," said Etowah Horse Shoe Fire and Rescue Chief Mike Huggins. "But if we can get in here in this concentrated way and get with these kids, and just talk to them about escape plans, fire extinguishers, and smoke detectors, and if we can help them not to hide under the bed during a fire or to not be afraid when they see things like fire trucks and medical helicopters coming, we can save more lives."
"We just want the community, and especially these children, to have information to help them prevent fires, and to know what to do if something happens in their home or elsewhere," said Roger Freeman, president of Etowah Horse Shoe Fire and Rescue.
"We love coming to the school," said Freeman. "If something we do or say while we're here helps to save even one life down the road, it's worth it."