HENDERSONVILLE, N.C. (Oct. 8, 2021) – After a hiatus last year due to the pandemic, the excitement of Henderson County Public Schools' annual Berrian All-County Orchestra is having its comeback Tuesday, Oct. 12 in the East Henderson High School gymnasium, thanks to ongoing funding support from the Henderson County Education Foundation (HCEF).
Featuring middle school musicians in the spring, and high schoolers in the fall, the annual concerts are named in honor of Dr. Mae Adele Berrian, a historic honoree of the Henderson County Education Foundation who willed a large sum of money to the Foundation to start the long-term Berrian Fund for the HCPS strings programs.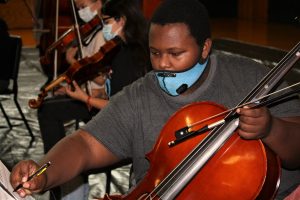 Each year, the festivals provide Henderson County Public Schools' orchestra programs the opportunity to learn from and be inspired by talented professional clinicians, improve their craft by playing challenging music selections, and give back to the community by performing a free concert.
On Oct. 12 at 7 p.m., students from East Henderson High, Hendersonville High, North Henderson High, and West Henderson High will join the Hendersonville Youth Symphony Orchestra in a performance showcasing the excellence of music education in the Henderson County community.
The All-County Repertory Orchestra will be conducted by HCPS' own Amanda Tant, orchestra and chorus director at Hendersonville Middle and Hendersonville High schools. The All-County Honors Orchestra will be conducted by Elizabeth Terry, director of the Hendersonville Symphony Youth Orchestra and strings and orchestra teacher at Buncombe County Schools' CT Koontz Intermediate, Valley Springs Middle, and TC Roberson High.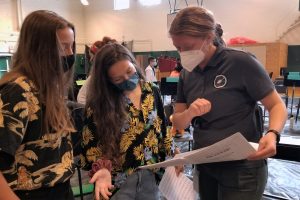 This year, the festival will feature musical selections by Adagio Cantabile by Beethoven arr. by Gruselle, The Avengers by Silvestri arr by Moore; Celtic Warrior by Amy Turlington (orchestra director at North Henderson High and Apple Valley Middle). The Youth Symphony will feature selections from Drifen by Atwell, Marche Slav by Tchaikovsky arr. by Gruselle, and The Barber of Seville by Rossini arr. by Gruselle.
As always, the concert is free to the public, though donations will be accepted by the Henderson County Education Foundation to continue support of the HCPS strings program through its Berrian Fund.
Attendees are encouraged to arrive early to secure parking and seating, and will be required to comply with HCPS' current face covering requirement on school properties.
More About the Conductors
Amanda Tant's students consistently receive Excellent and Superior ratings at Music Performance Adjudication (MPA) Festival and regularly participate in Junior and Senior Western Regional Orchestras, All-State Honors Orchestra, Henderson County Honors Chorus, and the Mars Hill University Choral Festival. Outside of her school ensembles,Tant conducts the WNC Music Academy Sonata String Orchestra. From 2016-2019, she conducted the inaugural Prelude Orchestra of the Asheville Symphony Youth Orchestras, and served as festival clinician for the 2018 Buncombe All-County Middle School Orchestra and 2016 Middle School All-County Berrian Orchestras. Tant performs on viola with the Café String Quartet, Brevard Philharmonic, and Hendersonville Symphony.
Elizabeth Terry is an Asheville native and has worked with middle and high school students in a variety of settings including chamber groups, youth orchestras, and all-county orchestras since 2006. Terry is an active performer. In addition to fiddling in a variety of styles for fun, Terry has professionally performed on violin with the Hendersonville Symphony, Brevard Philharmonic, Asheville Lyric Opera, Spartanburg Philharmonic, Asheville Choral Society, and Cafe Strings Quartet as well as other orchestras and chamber groups in the WNC area.
###