This week, district leaders and representatives from Curriculum Associates have been celebrating Marcie Burlett's 4th grade class at Upward Elementary for an accomplishment that would be cause for recognition anytime – but is even more impressive given the challenges of hybrid and remote learning this school year.
In Burlett's class, 100% of students reached the goal of completing 45 minutes each of individualized i-Ready instruction in both math and reading – for every week of this school year so far.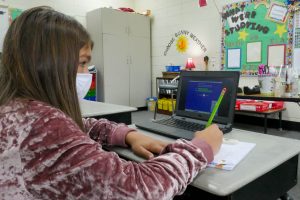 i-Ready is a digital K-8 instructional support tool used by Henderson County Public Schools providing all K-8 students access to the same lessons through consistent, standards-aligned practices. The computer-adaptive technology adjusts to each students' ability level, providing personalized lessons and assessments – and providing teachers with data about each student's growth and concept mastery.
As students pass lessons, they become progressively more complex to align with newly learned skills, explained HCPS Instructional Coach Becky Wuerzer.
With i-Ready, teachers like Burlett give face-to-face instruction based on their students' i-Ready assessments, and also have students log into i-Ready on their Google Chromebooks for lessons that are tailored to their skill level.
The ideal is for each student to work on their i-Ready lessons for 45 minutes in each subject area, each week. While it's not uncommon for 100% of a class to reach their 45-minutes goal for any given week, to do so week after week all school year is quite an accomplishment. And in the case of Burlett's class, 100% of students managed to log their individual work time while also maintaining a high yearly average on concept mastery assessments.
Their achievement earned them a surprise gift from Curriculum Associates (developers of i-Ready), and on Wednesday afternoon HCPS Assistant Superintendent for Instructional Services Dr. Wendy Frye visited the classroom to personally congratulate the students.
"For me, it's more of a game," said 4th-grader Brandon G. With a grin, he added, "Our teacher is kind of competitive."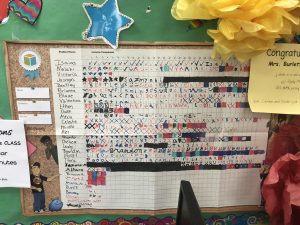 "When they pass a test they'd get two Skittles or M&Ms and mark off a box on that chart," said Burlett, motioning to a large chart mapping the students' progress hanging from a bulletin board.
It became a fun exercise in teamwork that spanned the multiple transitions between remote, hybrid, and in-person learning, said Wuerzer.
During periods of remote learning, Burlett would show students how they were progressing on the classroom chart. In return, Burlett would receive photos from her students' parents, showing off how they were logging their time on i-Ready from home.
And in class, the students are driving the friendly competition. As they pass quizzes after each lesson, "They tell me to refresh my screen," to see their percentages, Burlett said. They cheer each other on, show their work in their notebooks, and encourage each other to master that next, more complex math or reading concept.
Even with only a week left in the school year, the students are pushing to keep their 100% streak through May 28, and are still working on their personal goals.
"My goal is to get to a higher level (in reading and math) so I can get ready for 5th grade," said Shamila V. "It's more of a thing we want to do than something we have to do," said Brandon.