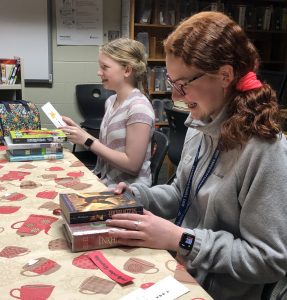 Did you know that April is School Library Month in North Carolina? Plus, this week is National Library Week. Though our physical libraries are closed this April, our Media Coordinators have been busier than ever making sure students, families, and staff are connected to reading resources and digital teaching tools during the school closure.
Under normal circumstances, Media Coordinators and Specialists are responsible for providing students and staff access to reliable and useful resources, and for teaching individuals how to use information ethically and responsibly. Media Coordinators also provide a variety of reading material options in their libraries, individualizing book recommendations to bring out the reader in each student.
With schools closed, Media Coordinators and Specialists are finding creative ways to nurture their students' love of reading while at home. Some are giving them away for free on carts in front of schools, many have added books to physical material packets, and others are taking individual student requests and delivering books to mailboxes.
With the transition to the Learn from Home model, our Media Coordinators and Specialists have also become the school heroes on our virtual frontlines, helping to ensure the HCPS Family is learning, engaged, and connected in this socially distanced, digital world.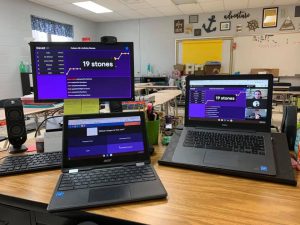 They've become the lifeline for many teachers, providing support for the huge wave of new tech tools teachers are learning and incorporating into their lessons. Media Coordinators make sure students and staff have access to devices for Learn from Home, and spend their days troubleshooting tech issues with staff and students (and parents) to keep everyone engaged and connected.
We are so thankful for our Media Coordinators' and Specialists' continued dedication in supporting their students' literacy, guiding their colleagues in new digital initiatives, and for keeping our school communities connected during this closure period.
To show your appreciation to your school's Media Coordinator, you can nominate them for an NC School Library Media Association award by visiting: https://ncslma.wildapricot.org/Awards.