Public Information Office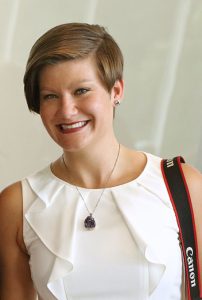 Public Information Officer Molly McGowan Gorsuch is responsible for disseminating timely information about Henderson County Public Schools so the public may better understand the district's objectives.
McGowan Gorsuch coordinates coverage with news media, arranges interviews with administrators and staff, and works with teachers within the schools to find and promote the best stories on teacher, student and school accomplishments.
In an effort to connect with more parents and community stakeholders in an increasingly tech-savvy world, one of the Public Information Office's objectives is to increase HCPS' social media presence on Twitter, Facebook, and Instagram, publicizing the positive events and initiatives within the system – both through original posts and photos and by sharing local media's coverage of the schools.
A 2010 Honors Fellow and graduate of Elon University, McGowan Gorsuch most recently served as education reporter for the Times-News in Hendersonville. Prior to that, she was the city government reporter for Hendersonville's sister paper, the Times-News in Burlington, for three years. She has earned consecutive first- and second-place North Carolina Press Association Awards for her reporting in 2012, 2013 and 2014.
McGowan Gorsuch also holds a M.S. in Communications and graduate certificate in Strategic Communication Management from Purdue University. She is a member of the National School Public Relations Association and the North Carolina School Public Relations Association, and has won public relations awards for the school district from both organizations.
Contact her at 828-697-4512 or email her.