Public Information Office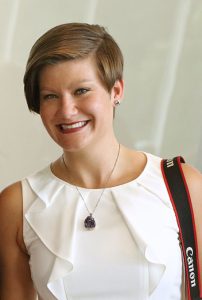 Public Information Officer Molly McGowan Gorsuch is responsible for disseminating timely information about Henderson County Public Schools so the public may better understand the district's objectives.
In her role, McGowan Gorsuch plans, develops, and implements internal and external strategic communication activities; coordinates media, community, and public relations; serves as the district all-media contact for routine and crisis communication; and is lead on branding, design, publications, marketing, and social media management.
McGowan Gorsuch holds a Master of Science in Communications and graduate certificate in Strategic Communication Management from Purdue University, and a Bachelor of Arts in Journalism and English from Elon University, where she was also an Honors Fellow. She is a proud board member of the North Carolina School Public Relations Association, and is an active member of the National School Public Relations Association.
She also serves as a board member on the Henderson County Education Foundation and Hendersonville Sister Cities, and volunteers with the local Chamber of Commerce's Education Committee, the Henderson County Local Health Information Team, and as president of Elon University's Asheville Alumni Chapter.
Contact her at 828-697-4512 or email her.