In the midst of learning one of Dr. Rollo Dilworth's choral pieces, chorus students at East Henderson High had the unique opportunity to chat with the world renowned composer himself, through video on Monday.
A prolific composer with more than 150 choral compositions and arrangements published, Dilworth serves as Vice Dean and Professor of Choral Music Education at Temple University's Boyer College of Music & Dance in Philadelphia. He frequently presents at state, regional, and national conferences, and international conferences, and has been a guest conductor at master classes and international choral festivals in Australia, Canada, Taiwan, Ireland, and China.
It was actually at the most recent N.C. Music Educators Association Conference that East's chorus teacher, Noah Melton, asked Dilworth if he'd be willing to bring his expertise into Melton's classroom, with a little help from technology.
"I've always loved him from afar and that's what made me say, 'Will you Skype with my students?'" Melton said.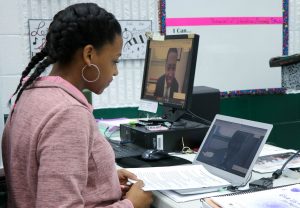 Students took turns asking Dilworth questions Monday, such as, "What do you want singers to communicate to audiences when they perform 'Climbing Up the Mountain, Children'?" East's chorus is preparing this particular piece for Music Performance Adjudication in March, and students talked with Dilworth specifically about portions of the composition's text and rhythms.
Sydney F., a junior, noted that a couple of Dilworth's pieces have a driving rhythm that reminds her of a train – so she asked if the composer liked that particular mode of transportation.
"I love riding trains," Dilworth said. "In my part of the country, Amtrak is very popular."
As Dilworth shared with students how long he's been composing (informally since age 11) and how many compositions he's published (over 200), freshman Noelle C. asked about his inspiration for writing songs.
"My job is to write lyrics in such a way to amplify the text and make it come to life," matching the rhythm and vocal colors with the text, Dilworth said. "I write songs because I believe it is part of my goal to inspire people."
When Milton asked the composer, "How important is music education to young people?" Dilworth said since music is a commonality across all human life, it should be taught as such.
"Music is a basic subject – it is not an extra subject," he said. "We all have a heartbeat; we all walk to a certain pace."
He thanked Melton and Principal Carl Taylor for their support of music education at East, and told students that not every school has music education opportunities.
"We must continue to help young people and their parents understand how important it is to have music," Dilworth said. "If music education didn't exist, then music itself one day will not exist."