Henderson County Public Schools' Child Nutrition Department served a total of 2,270 hot lunches and 250 holiday meals to local children facing food insecurity during the winter break.
Students were out of school from Dec. 23, 2019 to January 3, 2020, meaning children who depend on free and reduced-meals through the district's school lunch program could have faced difficulty securing meals over the break.
Thanks to Brian and Gina Grossmans' generous $20,000 donation to HCEF, the HCPS Child Nutrition Department served 1,059 hot meals on its Meals On the Bus mobile feeding site and 1,211 hot lunches to Boys & Girls Club members during the "Comfort Food" initiative on Dec. 23, 26, 27, 30,31, and Jan. 2, 3.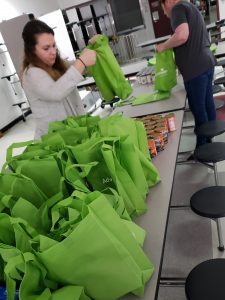 Additionally, 250 special holiday meals were provided to the Boys & Girls Club members to share with their families on Dec. 24, 25, and Jan. 1, and were lovingly packaged by volunteers.
The HCPS Child Nutrition Department annually serves thousands of meals at public feeding sites through the U.S. Department of Agriculture's Summer Food Service Program, including the mobile Meals On the Bus site. Established in 2017, Meals On the Bus has increased summertime access to food for children and families who lack reliable, safe transportation to the stationary open feeding sites in the community.
Through the "Comfort Food" initiative, the Meals On the Bus stopped at the same six neighborhoods as in the summer – King Creek, Dodd Meadows, Shorty Collins, Leisure Lane, Sugarloaf Apartments, and Alpine Woods – offering meals at no cost to children ages 2-18.