"All Belong! All Achieve! All Lead! All N!"
The entire North Henderson High student body shouted their mission statement in the gym Wednesday morning, during the school's first ever LEAD Showcase. A year into implementing FranklinCovey's Leader In Me model, the event was an opportunity to introduce the community to the student leadership nurtured in the school in the past year.
As of the 2018-19 school year, North was one of only 100 high schools nationwide – and one of two in North Carolina – to integrate the Leader In Me's high school model into school curriculum and culture. The LEAD model builds professionals-in-training by encouraging students to find their voice and develop critical skills that will help them successfully navigate college, career, and life.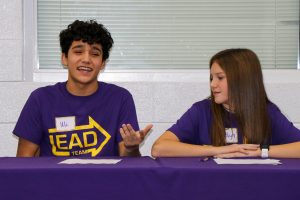 Presenting and taking questions as a panel, the 11 students on North's Student LEAD Team explained to Wednesday's invited guests how applying FranklinCovey's 7 Habits of Highly Effective People has changed how they perceive themselves, communicate and work with others, and plan for their futures beyond graduation.
Junior Gianna Cagle and others shared that Habit 5 (Seek First to Understand, Then to Be Understood) changed how they communicated at school and at home with their families, as they consciously listen to others' input before inserting their own thoughts.
Sophomore Uli Vega said that by applying Habit 2 (Begin With the End in Mind) and utilizing calendar tools recommended by his teacher, he's become more efficient at planning and tracking his homework assignments.
Freshman Caitlin McMinn called it a "paradigm shift," and North's graduation coach and LEAD coordinator Sloan Neuburger agrees.
"It's a paradigm shift of people believing in themselves," Neuburger said. "People change their mindset."
Student LEAD Team Co-Chair Ginny Alston said the shift hasn't just been limited to students – she's seen growth and positive changes in teachers, as well. A senior now, Alston said, "I have noticed a huge change in freshman teachers now, (compared to) my freshman year." She said now that the teachers – and all other North staff, for that matter – have adopted the 7 Habits in their own leadership styles, "They're excited to teach us about it."
And since the LEAD curriculum has been integrated into the "LEAD Period" on Mondays and Wednesdays, it's now a regular part of the school week.
Neuburger explained that students spend 20 minutes in their LEAD Rooms (like homeroom, but cooler) on Mondays planning out their weeks, setting academic and personal goals to track.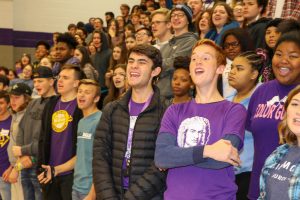 On Wednesdays, the longer LEAD Period focuses on lessons from the FranklinCovey LEAD curriculum: freshmen are learning the 7 Habits, while sophomores, juniors, and seniors study the "Find Your Voice" curriculum which incorporates career readiness skills like resume-building, digital citizenship, social media etiquette, and more.
Since the upperclassmen have already learned and begun adopting the 7 Habits, Neuburger explained the "Find Your Voice" lessons are "more about finding out what your strengths and weakness are, what you want to do in the future, and how to use your skillsets to accomplish those goals."
While some LEAD Team students in the upper classes say they witnessed some skepticism from their peers during the transition last year, McMinn said the leadership culture was established when she started her freshman year in August – and learning how to apply the 7 Habits was just an expected part of being a North Knight.
As a member of the Student LEAD Team, McMinn spends her Monday LEAD Periods collaborating with team members on how to create more leadership roles for their peers, so North's student body can increase its ownership of their school and its activities. They create "Action Teams" for students to apply to serve on, including the Ambassadors Team – who are the face of North's student body and greet and guide guests throughout the school. The Physical Environment Team has worked to incorporate North's new mission into school décor, including wall graphics, lockers, and displays. Other Action Teams are in charge of advertising available leadership opportunities to students and marketing the LEAD program to the public, welcoming and mentoring new students, tracking success stories, and documenting the implementation of the LEAD program at North.
When asked if the LEAD model had minimized bullying, senior and Student LEAD Team Co-Chair Bryan Ortiz said the habits have improved student relations since everyone is simultaneously learning to value others' input, collaborate toward common goals, and take responsibility for their own actions.
Overall, Ortiz said, "The students are more accepting." Alston added, "I feel at North we are a family (and) North is a safe spot."