If you're a student at East Henderson High and need something to feel confident for your job interview, you can get it from The Hub. Need a hygiene product or school supply? Get it from The Hub.
Located in the school's media center, The Hub is a one-stop-shop for students needing professional wear, a prom dress, a highlighter, or a toothbrush. The Hub was originally the brainchild of Terry Paige, retired teacher and regular substitute at East. But thanks to the organization of high school senior Lilly Baer, The Hub is gaining awareness in the school community.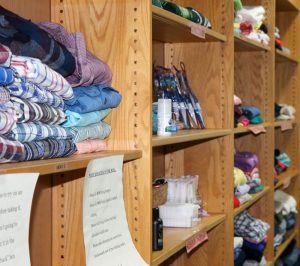 "I remember last school year there were bags of clothes as Ms. Paige was toying with the idea, and she got some donations," said Baer. "So I asked about organizing and now I am heading the operation."
Armed with a label-maker, hangers, and some serious organizational skills, Baer has worked to transform The Hub from a multipurpose room in the media center to a safe space where her peers can "shop" for free donated items without any shame.
"We don't want to have a stigma about The Hub," she said. "We want everyone to feel welcome."
That's why The Hub not only has everyday clothing like t-shirts, shoes, and pants for everyone in multiple styles, it also has professional wear like jackets, ties, skirts and dresses – as well as formal wear for prom.
"We have everything from XS to 2XL" Baer said. "We are trying to make an old cubicle into a dressing room so students don't have to keep going to the bathroom to try things on," which would give The Hub a more permanent feel, Baer said.
The Hub not only has clothing items, but general hygiene products as well. "We have an assortment of toiletries, from toothbrushes to feminine products, just in case someone needs it," said Baer.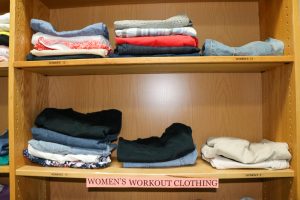 As a senior, Baer needs to find people to fill her shoes and step up to collect items for, organize, and promote The Hub after she graduates.
"Our student government has formed a committee of four other people to watch and help take care of The Hub once I leave," she said.  "I found a way to leave my legacy here."
Community members can drop off donations for The Hub at East Henderson High's front office; Baer asks that clothing donations be items that a high schooler will want to wear.
By Nicole O'Connor,
HCPS Public Information Office Intern