This year for National Custodial Worker's Recognition Day, Superintendent Bo Caldwell chose one lucky school custodian to take a paid day off work Oct. 2, while he takes over their shift.
With 40 years under her belt as a school custodian, Nancy Harris has seen generations pass through East Henderson High. Following in her family's footsteps, she has found a special pride in giving East Henderson's teachers and students a clean place to work and learn.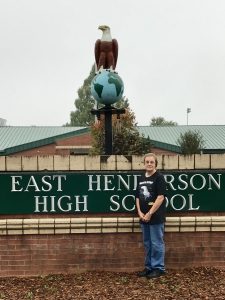 Harris is a diligent custodian who delights in working the shifts few would want. While everyone else sleeps at 1 a.m., Harris starts cleaning the halls and classrooms for the students who will fill them seven hours later. With a 1-9 a.m. shift, she prepares the classrooms and hallways in her section of the school in near solitude – and likes it that way.
"I like to come in, open my doors, and get all my work done (when) nobody's around" said Harris. "You get up in the morning, you look forward to getting here and everything," she said. "And when it's time to go, you go when the sun comes up."
Not only has Harris been working at East Henderson for four decades, she's also carrying on a family legacy; Harris and her family have been Eagles for over 40 years with their employment at Henderson County Public Schools.
"My mother-in-law and father-in-law worked here (at East). My husband has been a volunteer here for 20 years," said Harris. "My sister-in-law worked here, my niece and nephew worked here, and my brother-in-law works at Flat Rock Middle School."
With a degree in business, Harris initially only planned to work at East for five years when she applied as a custodian.
"This job came open and I thought, since (my family) works here I would try it."
Five years came and went, and Harris couldn't bring herself to leave the nest she'd made on East Henderson's campus. Now, she has every inch of the school memorized and is the trusted go-to when staff need help locating something – custodial or otherwise.
"If they need something they'll call me, and I'll tell them where it might be," Harris said. Or, since she lives so close, "I'll come back over and show them everything."
Harris also makes time to be social with the staff and students as they arrive on campus, even though she's been up and working since the wee hours of the morning. "I can still see them in the hall before I leave every morning," said Harris.
On National Custodial Worker's Recognition Day and everyday, Henderson County Public Schools thanks Nancy Harris and all the dedicated custodial staff who ensure our campuses are clean, inviting, and safe environments for our students and staff to thrive.
By Nicole O'Connor,
HCPS Public Information Office Intern