Last Friday at Blue Ridge Community College, high school students in Henderson County Public Schools ESL/Migrant Education programs took part in planning their futures with Listos!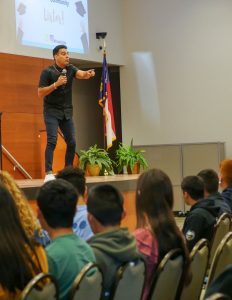 Organized by HCPS' Migrant/ESL High School Success Advocate, Areli Perez-Nava, in collaboration with the district's ESL Family Liaison, Evelyn Alarcon, the college- and career-readiness event featured keynote speaker Gabe Salazar, workshops with education and industry partners, and panels of former HCPS graduates and parents of current college students.
Salazar, named #1 Latino Speaker by Popular Hispanics Magazine, reached students on their  level, sharing with them how he overcame homelessness and gang influence to become the first in his family to attend college. During his session, Salazar made the students laugh, yell, and cry, but for all good reasons. He encouraged them to see more in themselves than they thought they could. Following his keynote, an abundance of students gathered around him for pictures and to share their stories.
Representatives from Blue Ridge Community College shared the various college opportunities available to students while still in high school, and the College Foundation of North Carolina provided information on completing FAFSA forms and college applications.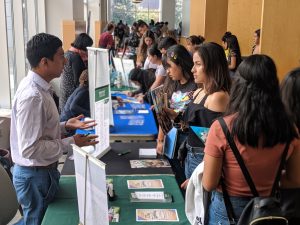 Another seminar was geared toward students who were interested in joining the workforce, and small group sessions allowed high schoolers to workshop their ideas for their futures, with former HCPS graduates serving as mentors.
Parents were welcome to join their high schooler at the Listos! event and share in learning how far their students can go in their education and/or careers when they continue to follow their dreams and passions. The parents attended their own seminar during the day l, during which they had  a chance to have their questions answered by other parents of college students during an open panel.
Additionally, with a registration fee of $1, the total registration money collected from Listos! will be awarded as a scholarship to one senior who attended the event.
Alarcon said the purpose of Listos! was to equip students in the ESL/Migrant Education programs with tools for their futures – whether that meant attending college or joining the workforce.
"Regardless of a students' pathway, they have the information and feel ready for the next step," said Alarcon.