Mountain bikers gathered in Brevard this weekend for the Roam Bike Fest spent part of their Saturday building 57 bicycles for students they'd never met. On Monday morning, Atkinson Elementary first-graders squealed with excitement when pro mountain biker Neko Mulally told them the brand new bikes gleaming on their playground were all theirs.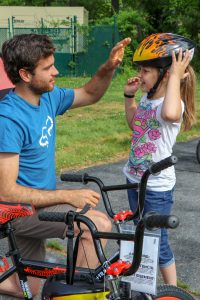 Through nonprofit Can'd Aid's "Treads + Trails" program, each student received a bike and helmet – and some help adjusting seats and helmet straps – before they were turned loose on Atkinson's track to practice their skills.
For many of the students, like Porter S., the Treads + Trails bicycle was their first "big kid" bike sans training wheels.
"This is his first true bike. And he just learned to ride it, right here," said Porter's father, Justin. "It's a real treat to see this," added Ken, Porter's grandfather.
A group effort, Justin, Ken, and other Atkinson family members joined Mulally , Can'd Aid representatives, and school staff on the track to help guide some of the more unsteady first-time riders.
Other first-graders had clearly ridden before, like Elloree H., who jumped on her bike without any help and pedaled off on her own.
"This is the best ever!" she exclaimed, zipping by. "Riding bikes on a school day!"