Presented annually by the North Carolina Society of Hispanic Professionals (NCSHP), the Hispanic Educational Summit is the largest educational conference in North Carolina for middle and high school Hispanic students.
Through engaging public speakers, college campus tours, educational exhibitors, and conference sessions, the Summit aims to motivate Hispanic students to excel academically and connect them with career and college resources for after high school graduation.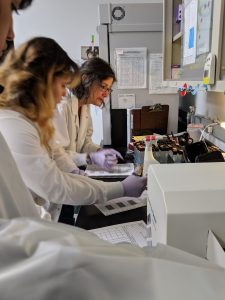 This year, Henderson County Public Schools sent 19 students from the Innovative High Schools, East Henderson High, and North Henderson High to the Summit at N.C. State University on March 29.
While on campus, research assistant Linda Lowney MacKenzie led two students on a tour of the Center of Applied Aquatic Ecology, where the high schoolers were able to participate in hands-on experiments and meet with the staff in the Center.
The 11 Early College students in the group were led on a campus tour by their former classmate, Brigid Zietlow (c/o 2018), who provided specific insight into transferring their earned college credits to a four-year university like NCSU. A third campus tour, led by students in the NCSU Multicultural Program, was conducted entirely in Spanish, making it accessible to all language learners.
"They enjoyed a meal in the campus cafeteria with a wide variety of foods and choices that many had never experienced," said Marriette van der Sluijs, Early College's world language teacher and Summit trip organizer.
At the Summit, students participated in workshops of their choosing, all addressing life skills, career planning, and education planning – with topics including "Sustainable Agriculture as a Career Path for Hispanic Youth," "Did You Know You Can Get Your Associates Degree in High School? What's Up With That?" and "Pathways to Law School."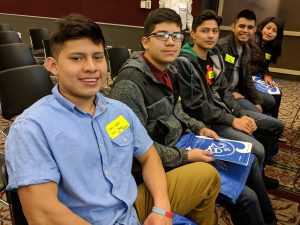 In its 20th year, the Summit featured an intentional focus on (Science, Technology, Engineering, Mathematics) education and careers, with Hispanic STEM professionals from corporations including BASF, Biogen, Cisco, and IBM connecting with students through panels, workshops, and interactive exhibitions.
"This opportunity encouraged students with Hispanic backgrounds to connect with and learn from peers from similar circumstances about success in the community, the importance of continuing their education and the paths that open opportunities for them to achieve their dreams," said van der Sluijs.