The bell hadn't yet rung for the school day to begin, but on Friday morning in Jessica Eblen's classroom, 20 Hendersonville High students were actively engaged in discussions about gender equality, marginalized populations, and reducing inequalities across the globe.
On International Women's Day, the student-founded Global Lens Club focused its activities on Reduced Inequalities – Goal 10 of the United Nation's "17 Sustainable Development Goals." Every other Friday morning, the group meets and discusses one of the 17 goals – including No Poverty (Goal 1), Responsible Consumption & Production (Goal 12) and Sustainable Cities & Communities (Goal 11) – using curriculum created by club founder Kathryn T.
A junior at HHS, Kathryn founded the nonpartisan Global Lens Club in April 2018 as part of her Girl Scouts Gold Award project, to increase awareness of global issues among her peers.
"I just think it's really important to think about issues with a global context," she said.
Kathryn was inspired to create the Global Lens Club following her experience serving as a delegate for Girl Scouts of the USA at the United Nations' Commission on the Status of Women last spring. While there, Kathryn heard from young women who had human rights-centered clubs at their schools, and she decided she wanted to create one at HHS.
"Our (school) curriculum is so jam packed; a lot of times current event issues can get left out," Kathryn said. She added that most of her peers gather their information on world events through social media which, Kathryn said, "is not a full comprehensive view."
So Kathryn took it upon herself to build a full curriculum for the Global Lens Club, creating research-based presentations and handouts for each of the UN's 17 Sustainable Development Goals. Eblen, social studies teacher and staff advisor for the Global Lens Club, said she's seen the students' activities morph into more organic conversations as the months have passed.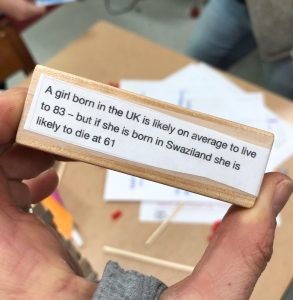 "I think it's a comfortable environment for people, and they feel safe and respected," Eblen said. "And it's OK for them to be vulnerable and talk about important issues."
On Friday, the students built mind maps on how to reduce inequalities for women and girls across all nationalities, learned statistics about global gender inequality by playing Jenga, and used LEGO bricks to build structures representing their interpretations of marginalization or gender equality.
As part of the 180 hours she's invested in the Global Lens Club, Kathryn had printed out facts about women and gender equality across the globe, and taped them on Jenga blocks. The stats, including, "Only 10 heads of state or government out of 58 are women in the European Union and Norway," were read aloud by students as they competed to build the highest tower.
The game itself reflected marginalized groups' strive for equality, Kathryn said, explaining, "Their climb on the social tower is much harder because they start out with less."
Using the LEGO bricks, the three groups built a letter "e" for "equality," a heart, and a throne.
Senior Shontha H. held up her group's small red heart, which had used the smallest bricks in the pack. "We thought the littlest pieces had the most impact," she said, explaining, "Everyone has a heart."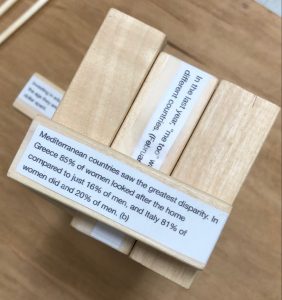 "This is a throne, because women are queens," said junior Hannah P. "I'm sure there's a Beyoncé song about it," she added.
As the bell rang, Kathryn gathered up her customized Jenga games – which she plans to use again next year on International Women's Day. She'll have one more year leading the club, but plans to begin mentoring an underclassmen her senior year so the Global Lens Club is sustainable after she graduates in 2020.
Not only is its sustainability one of the Girl Scouts' requirements for Gold Award projects, the Global Lens Club is something Eblen wants to see continue in her classroom for years to come.
"I think it's really encouraging as an educator that (students) are staying informed and educated, and they ask questions ­– very articulate questions," Eblen said. "That gives you hope for the future, right there."
Upcoming activities:
The Global Lens Club will be leading a river and trail clean up in Pisgah National Forest on March 23 as a focus on Goals 13-15 (Climate Action, Life Below Water, Life on Land). The club is also in the process of building a Little Library stocked with global content for children of Safelight clients living in the Fifth Avenue Apartments. For more information on the club and its activities, visit www.globallensclub.com.
– By Molly McGowan Gorsuch
Public Information Officer