With a theme of "New Explorations, New Horizons," Fletcher Elementary's 2019 STEM Fair on Feb. 28 was the culmination of a month-long deep dive into the scientific method.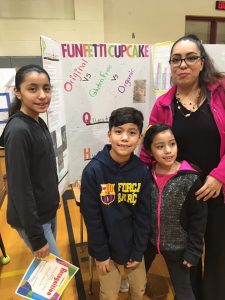 At the beginning of February, the 5th-graders led a kick-off assembly with a song about the scientific method to encourage school wide excitement about science related questions.
Throughout February, every classroom at Fletcher was buzzing with scientific questions, hypotheses, experiments,  research, conclusions, and reflections.
"For an entire month, the school turned into a science laboratory!" said ESL specialist Audrey Shemesh.
As part of the month-long STEM focus, 4th- and 5th-graders created science projects, which were displayed for parents and the Fletcher Foxes community the evening of Feb. 28.
In addition to the 300 display boards showcasing the students' scientific processes, demonstrations and exhibits from KidSenses Children's INTERACTIVE Museum, Zaniac Asheville, the WNC Nature Center, Asheville Museum of Science, Pisgah Forest Gem Mine, and Pisgah Center for Wildlife Education filled the gymnasium for the STEM Fair.
Check out more photos of the STEM Fair on the Henderson County Public Schools Facebook page.