Boutique enthusiasts know "pop-up-shops" are the new "it" thing, bringing an air of exclusivity to retail. But what if the same idea was applied to reading?
That's what Lisa Donaldson, youth services coordinator at the Henderson County Public Library, is exploring as she brings "pop-up libraries" to local schools – starting with Flat Rock Middle on Wednesday.
"We hope this will bring awareness of what the public library offers as well as encourage even more reading across different genres and levels," said Natalie Ezell, Flat Rock Middle's media specialist.
It was also a chance to promote Student Access, a program through which all HCPS students can check out physical and digital books using their student ID numbers (lunch numbers).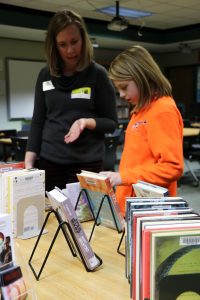 Ezell explained that the "pop-up library" paired with the Student Access program is ideal for students who don't have library cards, and don't have reliable transportation to a public library branch.
Donaldson added, "Using Student Access, (students) can come to any physical library and check out books, check out e-books thru the N.C. Digital Library, and use our online resources through our computers." And, she said, "The nice thing about school accounts is there's no late fees."
On Wednesday, the Flat Rock Middle students visited the "pop-up library" during their lunch hour, perusing the 60 titles that Donaldson had hand-selected. She said she'd asked Ezell what had been flying off the middle school's shelves lately, and tried to bring an assortment that would cater to the teen readers' interests.
"I know graphic novels are really big right now, so I tried to bring a big selection," Donaldson said. She said the Fantasy and Mystery genres trend with middle schoolers and added, "Historical Fiction – especially World War II fiction – I've noticed is popular."
Hayden, a 7th-grader, checked out one of the graphic novels and asked Ezell how he was supposed to return the book to the public library once he'd finished reading it.
"You don't even need to go there," Ezell said. "We brought it to you!"
"Sweet!" exclaimed Hayden.
Ezell said she was already discussing with Donaldson the possibility of bringing the "pop-up library" back to Flat Rock Middle closer to summer, "to boost summer reading."
"The students aren't here (at school) to check out from our library, and a lot of students may not have transportation to the public library," Ezell said. "It would be really nice, especially once they finish up these books, to make this available again."
Donaldson said she would be happy to take a "pop-up library" to any district school, and encouraged media specialists to reach out to her at Ldonaldson@henderson.lib.nc.us.
– By Molly McGowan Gorsuch
Public Information Officer