For a lesson in leadership, self-confidence, and cooperation, look no further than a self-conducted chamber orchestra like UNC Greensboro's Gate City Camerata.
Composed of UNCG School of Music string faculty and selected string students, the ensemble visited West Henderson High on Thursday and treated orchestra students to a brief concert followed by a workshop on chamber music.
Interspersed among UNCG undergrad, graduate, and doctoral strings students as well as professors Marjorie Bagley (violin), Alex Ezerman (cello), and Dr. Scott Rawls (viola), the high school students quickly learned the importance of watching each other's expressions, fingers, and bows.
That's how chamber musicians communicate when there's no conductor to lead them, Rawls explained.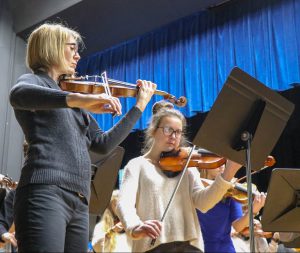 "There's always a visible motion that accompanies a sound we make," Ezerman said. "So we are all really conductor and player. And so chamber music is the art of using that information."
"It's turning the people you're playing with into conductors," he said. "We're always cultivating this awareness of what's going on."
After the combined orchestras' first run-through of Mozart's "Divertimento" together, Bagley instructed the high schoolers to pay keen attention to the bows of their fellow musicians, rather than relying on heard notes to inform their entrances and tempo.
Standing on stage right with the rest of the violinists, Bagley pointed to the cellists and upright bassists on stage left and said, "There's a delay (in sound) from that side."
Ezerman also asked students to note how the musicians within their individual sections were using their bows, and to match their form.
"If we all move the same way, we'll create a more identical sound," Ezerman said. "If you're in the upper half (of the bow) and someone else is in the lower half, good luck matching." Bagley added that in this particular piece, the violins were using almost the entirety of their bows, while other instruments were not.
After a second run-through, the professors reminded students they needed to be active parts of the music and anticipate the notes, rather than follow.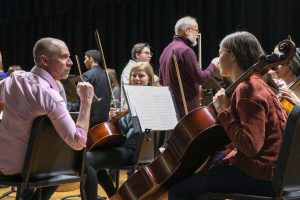 "If you're trying to immediately react to a stimulus, it's half a second," which is a game changer in music, Ezerman said.
"Never simply follow," otherwise you'll be late, said Rawls. "You're always leading."
With that in mind, West students and the Gate City Camerata played "Divertimento" a third time together, with noticeable difference.
"That's even better," Ezerman said. "You're more attached."
West's orchestra teacher and UNCG alum Tiffany King said the professors' discussion on signaling was timely because it's something she's been working on with her strings students – and the modeling drove the lesson home.
"It's something I talk about in class," King said. "But to have those professionals next to them demonstrating it was helpful."
And, it was encouraging.
West junior Aliyah said sitting cello next to Prof. Ezerman on Thursday built her confidence as she played.
"Getting to play next to him and seeing the way he bows makes me more upbeat about it," Aliyah said. "Seeing him play boldly made me bold."
– By Molly McGowan Gorsuch
Public Information Officer