In Staci Baker's 4th grade class, body wash, toothbrushes, and baby wipes are helping her students learn long division.
A teacher at Etowah Elementary, Baker knew the tricky math function was one her students would best master through hands-on application, and started thinking about service project ideas. After doing some research on local nonprofit Safelight, Baker determined that her 4th-graders would practice long division by dividing resources for Safelight's emergency shelter for women and children in crisis.
"We did a little research and found out that 1 in 4 women are victims of assault and domestic violence," Baker said. "We also found the Safelight women's shelter in Hendersonville and read about their needs."
First, Baker sent a letter home to parents, asking students and their families to bring in much needed items on Safelight's wish list, including dental hygiene, shower, hair care, and baby items.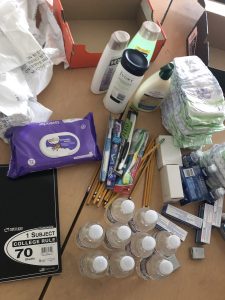 After a week of donated items pouring into her classroom, Baker figured out how her students could evenly distribute them all into donation boxes – and set to work writing word problems.
"The body wash we received as a class totals 64oz. If (shelter visitors) use 2oz each time they shower and they shower once a day, how long will the soap last them?"
In writing the long division problems for the worksheet, Baker also included facts about Safelight's work through the emergency shelter.
"Many of the women at the shelter brought their children with them to safety but they are struggling to provide them with diapers and wipes. Thankfully, you can help! A big box of diapers contains 92 diapers. If we are making 4 boxes to donate to the shelter, how many diapers will go in each box?"
"Unfortunately, many of the women had to leave their house and the life they live behind. This includes dropping out of school. Luckily, the shelter provides night classes to help them continue their education. In order to be successful, they need pencils to take notes. We had 124 pencils donated. How many pencils will you include in your box?"
In class this week, Baker had her students answer the worksheet in groups to figure out how much of each item they needed to include into their boxes.
"After they found out how much of each, they had to gather the materials and make the boxes," Baker said.
Students said the real-world application helped them grasp the concept of long division, and the service project made the math even more important.
"I learned you can divide anything," said Abie." It doesn't just have to be random numbers. It can be the actual amounts of things."
Ella and Ethan added, "The division is more worth it when you know you are going to help someone with it."
Safelight Associate Executive Director Andi Craven said the unique classroom exercise is very much appreciated by the nonprofit's staff and families.
"To see students using a math lesson to help our clients warms our hearts," Craven said.
"We always appreciate how Henderson County Public Schools continue to accommodate and help the families who reside in our emergency shelter," she said. "From Safelight staff and clients, we want to extend a huge thank you to Etowah Elementary for thinking of us!"
– By Molly McGowan Gorsuch
Public Information Officer