Trained classically on the piano from age 3 to 18, Flat Rock Playhouse player, pianist, singer, actor, and composer Nat Zegree started his childhood mornings with Mozart at the crack of dawn.
"My days would start with scales," he told West Henderson High chorus, band, theatre, and dance students Wednesday morning. As part of FRP's ongoing community outreach, Zegree was visiting the school before his matinee performance of "Pickin' and a Grinnin': A Night at the Opry."
Zegree said that since both his parents were pianists and educators, he'd had no choice but to learn to play piano. But he added his own flair as he developed a natural ear for music.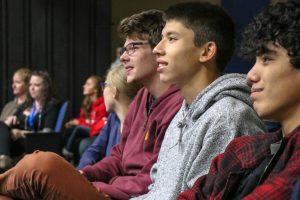 When his parents and sister played the classics, Zegree would say, "I hear you, but what if I played it upside down?"
Zegree told students he began experimenting with tempo and composition at a young age, and demonstrated Wednesday with Mozart's Piano Sonata No. 11; fingers flying across the school's keyboard, Zegree transformed "Rondo alla Turca" into an upbeat number reminiscent of a Latin dance party song.
"I was trained to read the notes," Zegree said over the students' cheers. "But I was starting to use my ear and translate what I heard."
He encouraged students to use their own ears to pick out familiar tunes as he played perfect fifths for them.
"Does anyone hear this and hear something they recognize?" Zegree asked.
When a student remarked that the notes sounded like the Star Wars theme song, Zegree launched into a discussion about film scores, and how the raw emotion a viewer feels at given points during a movie is directly linked to the music being played.
He played the "Jaws'" theme song and one student said she immediately felt anxious. "Harry Potter's" opening credits – a little eerie. "The Raiders March" – courageous and ready for Indiana Jones-style adventure.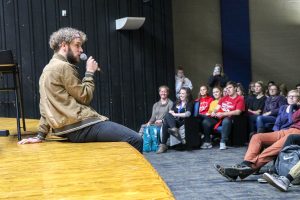 Just as renowned film scores evoke similar emotions in viewers across the globe, Zegree said music in general "is the one thing in this world that connects every single human being on this earth."
Whether it's classical, jazz, film scores, or country – which Zegree admitted is new to his repertoire thanks to "Pickin' and a Grinnin'" – music moves people and allows individuals to express themselves uniquely.
Which, Zegree said, is something that may appear "weird" to others. But he reminded the West arts students that "weird" and "normal" are entirely subjective; while obsessing about a film score after a movie was "weird" to his teenage friends, it was Zegree's passion, and his "normal."
And years later, Zegree perfected his normal for FRP – including upside-down piano-playing – when he took to the Mainstage in 2016 as exuberant Jerry Lee Lewis in "Million Dollar Quartet."
"Being weird is just your normal," he told students. "You do you."
Following his class, Zegree answered questions from students, who also lined the stage for autographs. They asked about his favorite film score composers, his own composition process, and who he recommended listening to.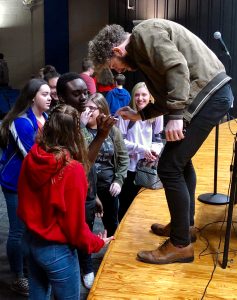 Afterward, Zegree said, "To be able to give them any sort of insight into the gems of artistry, and maybe even affect their paths in any way, is beyond an honor. It's a responsibility."
Lisa K. Bryant, FRP Artistic Director, added, "One of the main tenets of Flat Rock Playhouse is a commitment and dedication to arts training, and sharing the importance of the arts. And when you have the extra bonus of a unique talent like Nat Zegree who has a personal investment in sharing the power of music, it just all wrapped up into the perfect opportunity to connect with West."
Zegree said, "I'm more than happy at any moment to spend time in the school systems advocating for the continued success of art, theatre, expression, and above all – music."
– By Molly McGowan Gorsuch
Public Information Officer