The district's high school strings program has officially outgrown the stage.
Fans of the annual Berrian Festivals will notice a change in this evening's performance, as the Berrian All-County Orchestra performs under the direction of Gail V. Barnes – offstage.
Featuring a combined chorus of East Henderson, Hendersonville, North Henderson, and West Henderson high schools' strings students, the Berrian All-County Orchestra consists of 168 students this year – more than ever before, and more than will fit on the Blue Ridge Community College's Technology Education & Development Center stage.
Orchestra and Chorus Director at Hendersonville Middle and High schools, Amanda Tant said the combined orchestra has about 50 more members than it did last year.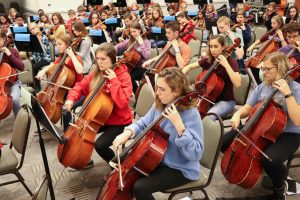 "It just exploded overnight," she said.
Tant said, "I think that the middle school (orchestra) programs' teachers have steadily recruited more," and this year several of those former 8th-graders joined their high schools' orchestras.
"At least 40 percent of this combined orchestra are freshmen," she said.
In addition to the student musicians, proud family members and community supporters were expected to fill the room for Tuesday's performance, Tant said.
"We're always standing room only for this event," she said.
That's due in part to the renowned guest conductors the annual Spring and Fall Berrian Festivals bring in, thanks to the Berrian Fund managed by the Henderson County Education Foundation (HCEF).
Named in honor of Dr. Mae Adele Berrian, the free festivals provide the district's orchestra programs the opportunity to learn from and be inspired by talented professional clinicians like Barnes.
Professor of Music Education and Director of the USC String Project at the University of South Carolina, Barnes has prepared nearly 100 teachers for string and orchestra classrooms and studios. She has conducted student orchestras throughout the country, presented clinics at national and international conferences, and published in many of the major music education journals.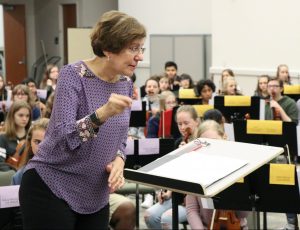 Barnes is also co-author of Measures of Success for String Orchestra, published by FJH Music Company, Inc., and editor of Applying Research to Teaching and Playing Stringed Instruments for the American String Teachers Association.
"She's nationally known as a string pedagogue, so it's a big deal that she's here," said Tant.
On Tuesday, Barnes challenged local strings students with handpicked pieces she'd judged at former performances, and honed their ears with one of her teaching devices. When one section wasn't quite matching the 88 beats-per-minute written for their part, Barnes set her metronome to 80bpm.
"Now I'm going to introduce you to 'Barnes' Torture by Metronome,'" she said. "It forces you to feel the intro pulse."
The method worked, and the students moved onto the next section of the piece – working to perfect it by 7 p.m. tonight.
This evening's performance is free, although donations will be collected for the HCEF Berrian Fund to support future strings programming.
"It's what's making all this possible," said Tant.
– By Molly McGowan Gorsuch
Public Information Officer