When Hendersonville Elementary students returned to school last week from intersession, they arrived at Camp Cubcat – complete with forest hallways, camping tents, and themed classrooms.
Each year, Hendersonville Elementary devotes an entire week to Science, Technology, Engineering, Art and Mathematics (STEAM), during which each grade focuses on specific experiments that align with grade level-specific NC Essential Standards.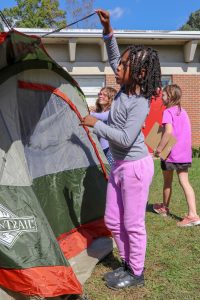 "Following steps in a process" is part of a 3rd grade reading standard, which English Language Arts teacher Hilary Wilcox taught in the courtyard – with a giant camping tent and graphic organizers. Students read instructions on constructing the tent, then filled in the visual tool step-by-step, making connections between each stage and their results.
"They all had a part they had to play," Wilcox said. "They filled out the graphic organizer as they went along."
Susan Newman, STEM and testing coordinator at HES, was impressed with how quickly the 3rd-graders processed the instructions and constructed the tent.
"For 8-year-olds, they put that thing up fast," she said.
In 1st grade, students used the ChatterPix app to put a visual spin on animal report projects. First, students researched woodland animals on World Book Online, said 1st grade teacher Caylee Icenhower.
"It's a really good resource," she said. "It's made our researching a whole lot better this year."
Then, students wrote their reports and used their voices and ChatterPix to make pictures of their chosen woodland animals vocalize their reports.
Unfortunately, tent-building and other outdoor lessons were postponed from last week due to Hurricane Michael, but the natural disaster actually inspired an additional school-wide activity among students.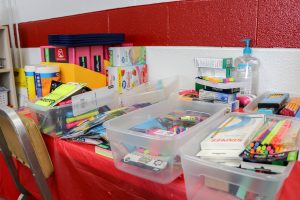 Led by the 5th grade class, HES is holding a "Mountains to the Sea" school supply donations drive to benefit Swansboro Elementary. Similar in size to HES, Swansboro Elementary students are meeting at Hammocks Beach State Park to hold "Learning Camp" while their school is still damaged and closed.
"They got about a foot-and-a-half to 2 feet of water inside," said HES 5th grade teacher Kristi Duckett.
She said HES students and families are collecting back-to-school items to help replace those at Swansboro destroyed in the flooding because, "When those students left their homes, they weren't grabbing school supplies."
A final push for donations will take place this Thursday night at HES' Family Festival, when individuals will be encouraged to "stuff the tent" full of pencils, binders, clipboards, markers, backpacks, and other school supplies.
– By Molly McGowan Gorsuch
Public Information Officer