Students contemplating joining the workforce upon graduation spent Monday refreshing resumes, practicing interviews, and learning job application tips during the first ever Made In Henderson County Career Readiness Workshop.
In the Macintosh Room at Blue Ridge Community College, juniors and senior critiqued and edited their resumes and filled out sample job applications. In the "Soft Skills Workshop," students practiced verbal and nonverbal communication skills appropriate for job interviews, and practiced what they'd learned in "Interviewing 101" – where local professionals provided constructive feedback on students' interviewing techniques.
Brittany Brady, Henderson County Partnership for Economic Development president, said the Career Readiness Workshop is another avenue through which The Partnership can make career connections for students and industries.
And, she said, "It helps students prepare for our (Made In Henderson County) Job Fair coming upon April 30."
In its second year, the MIHC Job Fair will provide high school seniors instant access to Henderson County manufacturers with open positions that students with little work experience or applicable skill set would be eligible for immediately upon graduation.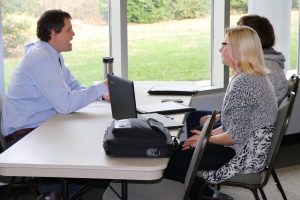 The job fair emerged from a growing partnership between the school system and The Partnership, which has – through Made in Henderson County employer tours and events – showcased manufacturing careers to middle and high school students since 2012.
And the Career Readiness Workshop is yet another example of collaboration between educators and local workforce development leaders.
Brady said the "big picture" of the workshop is educating students how to represent themselves professionally – both physically and through technology. Brady said since technology plays such a large role in communicating with potential employers, students were getting a crash course in digital professionalism from a former graduate.
Maggie King, a 2015 West Henderson High graduate and current junior at Appalachian State University, hosted "Advice From A Graduate," and talked about voicemail greetings.
"This is how employers are going to contact you," she said. "They won't text you."
She played three examples of a voicemail greeting – one funny, one simply stating a name and callback number, and one an automated greeting. While the first one may be personable, King said, she told students to set up their voicemails with a simple message, clearly stating who they are and how to contact them again.
"Setting up your voicemail could be a key component to getting a job over someone else," she said.
The same is true for email addresses, King said. Employers are not likely to be impressed by a cute "i-luv-dogs@gmail.com" address; rather, students should stick to using their first and last names and a few numbers if necessary.
Last but not least, King recommended students do an Internet recon of their media.
"Google search yourself," she said. "Everything that pops up there can pop up on the employer's search as well."
– By Molly McGowan Gorsuch
Public Information Officer