Dana Elementary students celebrated Valentine's Day with style and grace Wednesday, as they shared a Manners Meal in the school cafeteria.
Principal Kim Morgan said the school celebrates Valentine's Day a bit differently than most, focusing on how to best share polite company with friends and loved ones gathered together – for any occasion.
Morgan said Dana's Word of the Week this week is "etiquette," and, "They've practiced their manners and they're supposed to be using them."
She added that since Wednesdays are usually "Wildcat Wednesdays" at Dana, the students are used to wearing purple, but on this particular Wednesday several dressed up for the special manners meal.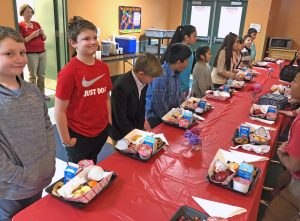 In one corner of the cafeteria, LaTonya Kennedy's 4th grade students stood in dress shirts and special dresses, waiting around their table until all their classmates had joined with their food before they sat to eat.
Meredith Lombardo's 4th-graders discussed other good manners they'd been practicing – like keeping their elbows off the dining room table.
"We talked about how that (habit) started," Lombardo said. In the past, she said, "There were sailors on boats and they had to hold their plates on the tables while the boat was rocking back and forth."
Since their tables are stable, Lombardo's students agreed that they'd keep their elbows off the table at lunch – and they'd try to do the same at dinner with their families.
Fourth-grader Cameron also recommended eating with closed mouths, and Abby said, "No talking with food in your mouth."
Fellow 4th-grader Gauge said he'll try to remember to "keep it at a Level 1," or between a whisper and a normal speaking voice at the table, and take turns talking.
Though the students promised to practice the etiquette they'd learned, a few admitted that some good manners are hard to remember. The chewing-with-mouths-closed rule seemed to trip up a few, while others struggled with keeping their elbows off the table.
"The hardest is to not burp out loud," said 4th-grader Eli.
But, he said, he's working on it.
– By Molly McGowan Gorsuch
Public Information Officer