Last January, kindergarten teacher Holly McMurray was laid up in bed with strep throat, and spent her sick days applying for a Dollar General Literacy Foundation grant. Today, Sugarloaf Elementary has one of the first sets of a brand new K-1 Guided Reading Collection by the company that set the standard for leveled reading.
McMurray explained that during fall semester of last year, she and her fellow kindergarten teachers were running out of new texts for their students' guided reading practice – which consists of a teacher working with small groups of readers with the same reading skill and comprehension levels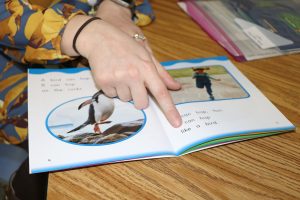 Using "leveled" texts that match the students' current abilities allows teachers to "differentiate instruction," or meet each student where they are in their reading education, and help them improve and read onto the next level. Leveling reading difficulty from A-Z, The F&P Text Level Gradient™ by Fountas & Pinnell Literacy is one of the most recognized tools in education for selecting appropriate books for guided reading instruction.
Sugarloaf and other local elementaries already use Fountas & Pinnell's literacy intervention materials to provide additional instruction for struggling readers. So when McMurray saw that Fountas & Pinnell would be releasing Classroom Guided Reading Collections in August 2017, she knew she wanted levels A-G for Sugarloaf's kindergarten students.
"I found out about it because I Facebook stalk authors," she said.
But the resource came with a $3,800 price tag.
So while McMurray was home with strep throat last year, she said, "I went online to look for grants for books."
She found and applied for a grant through the Dollar General Literacy Foundation, which awarded McMurray a healthy sum of $2,500. From there, McMurray worked to secure the additional $1,300 needed to purchase the books. She petitioned Fountas & Pinnell for a discount, and the company gave her free shipping – knocking off about $300 from the original cost.
"I wrote letters to business and asked if they could make a contribution to help us close the gap," McMurray said.
Carolina Farm Credit donated the remainder of the funds, and McMurray's books arrived in time for the start of the 2018 fall semester.
And it's not just McMurray's students benefiting from the resources; all 60 kindergarteners in Sugarloaf's three kindergarten classrooms use the books, thanks to a handmade library card system created by kindergarten teacher Amy Paulson.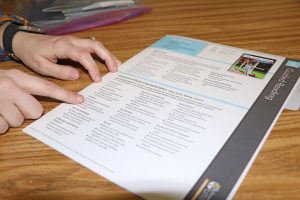 "We used the snow days (in January) to catalogue them," McMurray said.
In addition to 100 sets of fiction and nonfiction books, the Fountas & Pinnell Classroom Guided Reading Collection includes student assessments for each book, strategies for teachers to build reading and written comprehension, and more.
"Every lesson comes with ESL (English as a Second Language) support, which is huge for our population," McMurray said.
McMurray noted that the new core guided reading resources have been especially beneficial in maintaining consistency with those kindergarten students needing additional instruction in intervention sessions, since the books are all from Fountas & Pinnell.
"For our kids that are in intervention, they're hearing the same vocabulary and instruction," she said.
"Because it's from the same author, the kids see the same characters," McMurray said. "They like seeing them in different situations."
– By Molly McGowan Gorsuch
Public Information Officer