There's no running allowed in the hallways at Hendersonville Elementary, but on Wednesday, "skating" on stocking feet was encouraged.
Tara Anderson's 2nd grade students took turns peeling off their shoes and "speed skating" in their socks halfway down the hall, while Instructional Assistant Alyce Wellman timed them and their classmates recorded their results.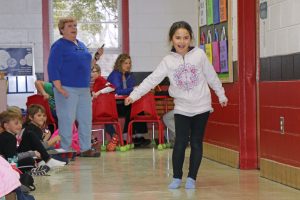 The math activity was one of several science, technology, engineering, arts, and math (STEAM) challenges taking place in the school as part of the Winter STEAM Olympics, themed after the upcoming Winter Olympic Games in South Korea. The week of challenges kicked off Tuesday afternoon with a Parade of Nations and a torch runner who jogged laps around the school while students waved their country's (classroom's) flags.
On Wednesday in the hallway, Wellman told the speed-skating students, "We're competing for time." She said, "Don't walk, let (your feet) slide. Scoot, scoot."
Anderson explained that the 2nd-graders are learning about pictographs, line plots, and bar graphs, and with the timing data they collect on their speed-skating classmates, they will choose which type of graph to create.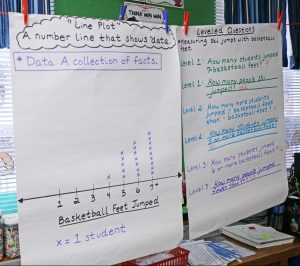 Additionally, she said, the students will create their own math problems based on the graph data.
Down the hall, Cayley Icenhower's 1st grade class was preparing for their "curling" challenge on Thursday, during which they would use a candy cane to tap a hard candy across a frozen sheet of ice in a tin pan. She said her students had been researching the various Winter Olympic sports and wanted to try a curling experiment.
"They had never heard of (curling) before," Icenhower said.
The students will experiment with different objects – including pencils, craft sticks, and pipe cleaners – to see which does the best job "sweeping" the ice in front of the candy "stone."
The Winter STEAM Olympics will culminate at HES on Thursday evening, with a family night full of interactive STEAM challenges, including a luge-building station, a ski jump activity, a bobsled team challenge, and more.
– By Molly McGowan Gorsuch
Public Information Officer