On the Thursday before Thanksgiving break, Upward Elementary students and staff counted 400 reasons to be thankful.
Four hundred parents, grandparents, siblings and other family members joined their Upward Eagles for a Thanksgiving meal and the school's first "Lunch 'n Learn."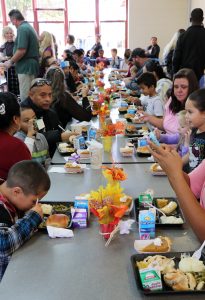 A popular parent engagement activity, Lunch 'n Learns invite family members into their children's schools to share a meal and experience an afternoon in the lives of their students.
"It's something that a lot of our elementary schools have been doing and we wanted to incorporate that at Upward to increase family engagement," said Principal Jason Joyce.
A true community and family affair, the Henderson County Public Schools maintenance department helped Upward staff set up the extra tables lent by nearby Biltmore Church, and the cafeteria staff spent days preparing enough turkey and fixings for their guests.
With about 427 students at Upward, Joyce said, "Almost every family has been represented."
First grade teacher Jenna Hawkins noted that the students enjoyed teaching their parents in their classrooms.
"It helps parents to see the environment and the skills they're working on," added 1st grade teacher Kelly Fiveash.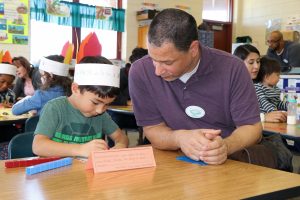 First-grader Andrei said he enjoyed showing his mom, Yesenia Garcia, how his reading was progressing.
"He's gotten so good at," Garcia said. "It makes me happy because I wasn't great at it."
She added that she appreciated getting a glimpse of her son's day-to-day life at Upward through the Lunch 'n Learn.
Upward parent Devon Anderson said he normally works second shift, so being able to join his daughter, Kashmere, for an afternoon meal was a treat.
"I used to just drop her off," Anderson said, scraping the whipped cream off his pumpkin pie onto his daughter's slice. "It feels good to spend time with her."
– By Molly McGowan Gorsuch
Public Information Officer