Everybody needs those friends who motivate and encourage them to achieve success, and help them maintain focus. For a group of Clear Creek Elementary students, those friends are older student mentors from North Henderson High who visit their "Knights' Paw Pals" regularly to reinforce leadership habits.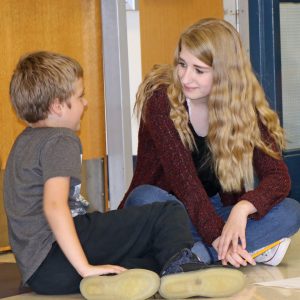 Organized by North seniors Tia K. and Annie Grace P., the group of junior and senior mentors met with their "pals" on Tuesday, and read about Sean Covey's Habit 1: "Be Proactive."
The students discussed what it meant to be proactive instead of reactive, and encouraged their young friends to engage in an activity that tested their skills identifying proactive versus reactive behaviors. Then they broke off into small groups to collaborate on worksheets identifying proactive behaviors.
North's Graduation Coach Sloan Neuburger and Clear Creek Principal Marcie Wilson said the student-led mentoring group had started off as an idea between the two adults last year, but the high school leaders made it happen this year.
"I talked to Sloan last year about having some kids come once a quarter," Wilson said. "It just grew from there."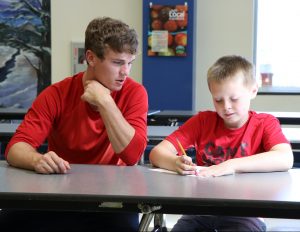 Clear Creek teachers nominate students who can benefit from a positive young adult role model, and they're paired with high school students from North who exhibit good character, strong leadership skills, and have interest in working with younger students.
Though several of the high school seniors participating in Knights' Paw Pals are using the experience as part of the required service element of their senior project, they intend to continue fostering relationships with their Paw Pals beyond the time required for their grade.
Senior Lone J. said he looks forward to coming to visit his pals, "At least once a month," for the rest of the school year.
"We want them to have a positive attitude, so that's the impact I want to leave," he said.
– By Molly McGowan Gorsuch
Public Information Officer