General contractors use it to calculate how much construction material is needed to build a new house. Orthodontists use it to determine how much force is required to straighten crooked teeth. Math is everywhere, which is exactly why the 8th grade math teachers at Rugby Middle annually host "Real World Math Day" for their students.
On Friday, Oct. 13, parents and community members were invited to the middle school to showcase their talents and explain how they use math in their professions and hobbies.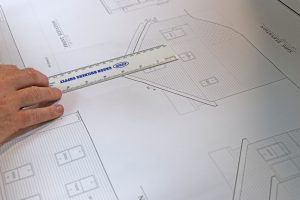 Doug Mertz, general contractor and owner of Mertz Manors Inc., had brought along some blueprints and had students measure one side of a house to determine how much siding was required to cover it. After finding the area of the wall, students realized they'd have to subtract the area of a window that was planned for the wall, so they wouldn't have wasted siding.
Mertz explained he'd need enough siding to finish the product, but, "You don't want to have more material out there than you need because it could get damaged or wasted."
At another table in Rugby's media center, a student's grandmother pulled out her recipes and showed students how much math she used each time she cooked a recipe. Nearby, Lisa Waldrop of the Elijah Mountain Gem Mine explained how she used division to determine how much each individual souvenir gemstone cost the company to purchase, and percentage of increase to calculate the item's markup price.
"When we get things into the store, they come in by weight. They cost us $18 a kilogram," Waldrop said. "So we've got to figure out how much each individual stone costs and then how much we're going to sell it for."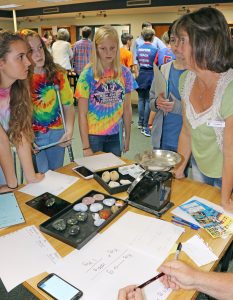 Dr. Albea of Caroline Albea Orthodontics told students that when it comes to designing braces for individuals, "We have to think about angles."
Albea uses geometry every day when she determines the angles of the front teeth in reference to a reference line she draws on patients' X-rays. If the angle is obtuse, the tooth is too far forward, she said.
"The norm is about 82 degrees," in reference to the horizontal reference line, Albea said.
Albea also uses math to determine how much force should be applied to each tooth in order for it to move within the mouth.
"If you put too much force (on a tooth), you might crush that root," Albea said. "If you don't have enough, that bone's not moving."
As students visited each occupation station – rotating from civil engineer to insurance salesperson to nurse – they took notes on how each community member applied mathematics in his/her profession or hobby.
"This is to show (students) how much math is used in the real world," said Karen Bennett, 8th grade math teacher. "We show students that there is not a job (in which) you don't use math."
– By Molly McGowan Gorsuch
Public Information Officer