High school juniors in the Henderson County Chamber of Commerce's Junior Leadership Class learned firsthand Tuesday what it takes for businesses to succeed in downtown Hendersonville. Through interviews with local business leaders, students learned about the local workforce and career opportunities, while developing their own professional skills.
At Tempo Music Center, students Ryan O., Juan P., Ivania C., and Caroline M. learned about closely held subchapter S corporations from business owner Mike Hall.
"It's a corporation run by a sole proprietorship. It's basically a 'Mom and Pop,'" Hall said. "There's tax advantages to that."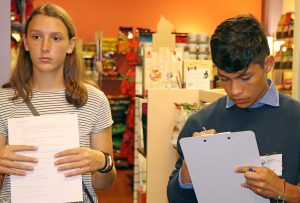 He also touched on business differentiation. Though "guitars will always be our #1," Hall said the 42-year-old business also offers church sound and industrial sound installations, sound system rentals, music lessons, and instrument repair.
At Wag! A Unique Pet Boutique, students Isabella D., Pablo H., Claire S., Mackenzie M., and Jordan B. learned from owner Carolina Gunther that problem solving skills are required by entrepreneurs and all business professionals.
For Gunther, that can mean figuring out how to provide loyal customers with convenient access to heavy bags of dog food – without having to drive too far out of town, and in an area with limited parking spaces.
"We have our dog food listed online and (customers) can drop by and pick it up," Gunther said.
She also problem solves each time a customer needs to find the right food or product for their animal.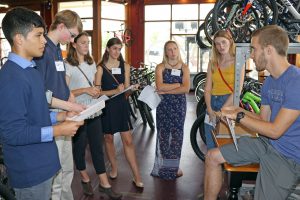 "There's no one best thing," Gunther said. "Because, like people, all animals are different. It's like solving a puzzle." She added, "I've got stacks of records on each dog to keep up with each customers' needs."
"This particular interviewing exercise is a first for the Junior Leadership Class," which is in its 18th year as a program, said Hoyle Adams, workforce development project manager at the Chamber and JLC organizer.
He said the purpose of the interviews with executive directors and owners of downtown organizations and businesses – including Safelight, Tempo Music Center, Entegra Bank and Mast General Store – are twofold: to learn about 10 different businesses in Henderson County, and to build students' interview and communication skills.
Adams added that the exercise may help the juniors add or subtract from their potential job lists, and provides them with a network of business professionals in various types of organizations in the community – which will become quite valuable when they embark on their careers.
– By Molly McGowan Gorsuch
Public Information Officer