What does it take to revive a tradition that takes an entire elementary school on an all-day field trip of mountain heritage activities? A group of dedicated teachers, parent and community volunteers, and a whole lot of planning.
In 1994 when Henderson County Public Schools Superintendent Bo Caldwell was principal at Atkinson Elementary, he established a "Heritage Day" at Camp Pinnacle, where every student learned about the tools, trades, and daily life of early Western North Carolinians. Years after Caldwell had moved to administration at Central Office, the Heritage Day tradition came to a halt, with 2007 being its last year at Camp Pinnacle.
Until this year, when second grade teacher Cathy Gilbert decided it was time to bring Heritage Day back to Atkinson.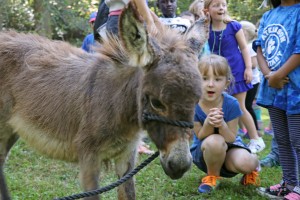 Principal Mark Page said Gilbert had expressed interest in reviving the tradition at the end of the 2016-17 school year, and he approved of the plan – but reminded her how much planning and organizing went into the event.
Over the summer, Gilbert called in two pros: Kathy McCusker and Harriet Sterling, both retired Atkinson teachers who had been involved with Heritage Day under Caldwell's principalship.
"They got together over the summer and planned it out," Page said.
Gilbert, McCusker, and Sterling wrote and secured a $475 grant from the Rotary Club of Hendersonville, and pored over files from years past to find contacts for the various Heritage Day activities – which included beekeeping, horse-drawn wagon rides, rug weaving, soap-making, looming, pottery, falconry, archery, history lessons on the Cherokee Indians and the Civil War, a cider press, and more.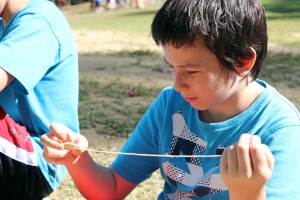 McCusker said it was very exciting to help bring Heritage Day back to Atkinson.
"It takes a lot of work," she said.
But the effort paid off, giving every student equal access to heritage education. Page said despite the fact that multiple outlets in Henderson County exist where students can learn the area's history and culture, not every student has the opportunity to participate.
"So we're taking them to it," said Page.
One of the day's first activities was riding in a horse-drawn wagon, driven by Jimmy Cowan. After introducing the students to his horses – Will and Kate – Cowan explained, "This is how everybody used to get around." He added that some horses are for riding, while others are workhorses.
"You can usually work horses until they're in their early twenties," Cowan said.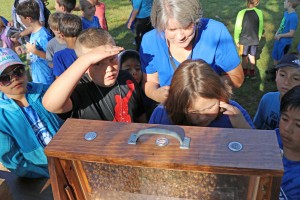 Down the hill, Jim Poe, Pat Roe, and Jim Caskowski with the Henderson County Beekeepers' Association helped students find the queen bee among the moving cluster of worker bees in a glass case.
"All she does is lay eggs," Poe explained. "In the middle of the summer, she can lay 2,000 eggs."
Johnny Heath, who's won 13 national titles and seven world titles in archery, brought his traditional bow and arrow – along with a much more modern, 2018 model crossbow – to show students how early Western North Carolinians hunted for food.
Kim Floyd with Smelly Hags Soap Company told students how soap used to be made with lye, then let them create their own glycerin soap through a safer process.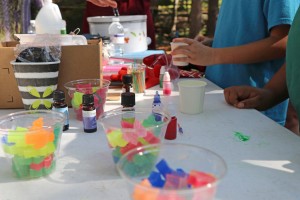 "Our great-great-grandmothers up in the mountains used to get a chemical called lye," Floyd said. She explained that early mountain dwellers would collect rainwater and drip it through charcoal they'd collected from a fire. After several passes through the charcoal, Floyd said, "That water would turn into an acid. That acid turned fat into soap."
At Camp Pinnacle, Floyd heated a Crockpot of glycerin and let the students make their own soap creations.
"They're choosing additives: colors, designs, and fragrances," she said.
Around lunchtime, Caldwell visited the camp while students munched on made-from-scratch biscuits and hand-churned butter, and praised Atkinson's administration and staff for bringing Heritage Day back to life.
"Who would have thought something I started in 1994 would carry on today?" Caldwell said. "I think it's so important for our children in Western North Carolina to continue to understand our mountain heritage."
– By Molly McGowan Gorsuch
Public Information Officer