Supply Lists for 2021-2022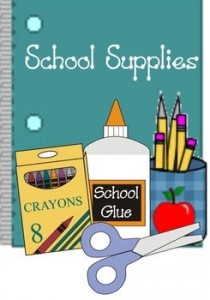 Dear Marlow families: below are the Grade Level supply lists for the '21-22 school year.
If you are in need of any school supplies, please do not hesitate to contact the school, or email our Guidance Counselor, Ms. Rachel Malmgren at rbmalmgren@hcpsnc.org, and she will gladly assist.
Thank you so much!
Kindergarten

1 backpack (must fit in cubby; no rolling backpacks per school policy)
2 boxes 24 count crayons (Crayola is preferred)
1 box tissues (Kleenex is preferred)
Fine-tip black markers (Expo is preferred)
18 glue sticks
4 Fat pencils
3-ring 1 ½" view binder (with cover insert) with an inside pocket
(please write your child's name inside)
Headphones (no earbuds)

Boys:

1 box 2-gallon size zip top bags
1 box snack size zip top bags
2 containers of play-doh

Girls:

1 box sandwich-size zip top bags
1 box 1-gallon size zip top bags
1 box washable markers – fat (Crayola is preferred)

1st Grade

12 school glue sticks (Elmer's is preferred)
4 boxes of crayons (Crayola is preferred)
1 pair of scissors (FISKARS is preferred)
2 large pink erasers
1 3-ring 2 inch binder (with clear cover insert)
5 black and white composition books
2 boxes of tissues
2 plastic folders with pockets
1 pencil box or pouch
Headphones

Boys:

Girls:

1 box sandwich size bags (Ziploc is preferred)

Optional and greatly appreciated:

2nd Grade

24 pre-sharpened pencils (Ticonderoga is preferred)
Two 24-pack of crayons (Crayola is preferred)
2 packs of tissue
2 rolls of paper towels
2 packs of 3×3 sticky notes (Post-its are preferred)
At least 8 glue sticks
3 plastic folders with pockets
4 composition wide ruled notebooks (not spiral bound, please)
1 pair of kids scissors (Fiskars is preferred)
1 – large nylon pencil pouch (no pencil boxes, please)
One 24 pack of colored pencils (Crayola is preferred)
At least one 4 pack whiteboard markers (Expo is preferred)
1 clipboard
1 pair of headphones
1 box sandwich bags (Ziploc is preferred)
1 box gallon bags (Ziploc is preferred)

Please label all of your child's supplies prior to Meet the Teacher. Also, note the preferred items are preferred because those items last longer.

3rd Grade

Required:

3 ring Binder–no bigger than 2 inches (Zipper is preferred)
3-hole zippered pencil pouch
 2 boxes of 24-count crayons
8 Black dry erase Markers
24 glue sticks
1 pair of scissors
2 3-hole punched spiral notebooks
3 black and white composition books
3 plastic pocket folders (1 with brads)
36 pre-sharpened pencils (Ticonderoga is preferred)
1 pack of red pens
2 boxes of tissues (Kleenex is preferred)
Headphones

Optional:

4th Grade

1 -large zipper binder (trapper keeper)
1- zippered pencil pouch
2- composition sized notebooks (math and ELA)- any color
1- spiral notebook (science) – any color
#2 pencils (Ticonderoga are preferred – better for our pencil
sharpener)
Glue sticks – large package
Dry erase markers – black
1 package pencil top erasers
1 pair of scissors
1 pack of twistable colored pencils  (Twistable preferred but any will work)
3- plastic folders with pockets (Yellow, Green, and Blue colors)
1- earbuds or headphones for the computer lab

Requested:

Markers (Crayola is preferred)
Crayons (Crayola is preferred)
Girls – Tissues
Boys – Band-aids
White cardstock
Highlighters
Colored dry erase markers (Expo is preferred)

5th Grade

1 pencil pouch with 3 holes
1 2-inch, 3-ring, zip-up binder

Note: binders larger than 2" will not fit in desks)

3 plain pocket folders (solid colors) with holes

Note: If the binder you select has a built-in organizer in the front, the folders are not needed.

1 pair of scissors
1 pencil box for storing supplies
1 handheld pencil sharpener with lid
2 packs of pencil top erasers
Glue sticks
Pencils
Black dry-erase markers (Expo is preferred)
Colored Pencils
$3 for developing pictures
Headphones or earbuds for computer lab

Mrs. Burnette

Required:

Glue sticks
2 plastic pocket folders
1 pair of scissors
Wet Ones
Baby wipes
Tissues
Headphones
Complete change of clothes appropriate for cool and warm temperatures

Requested:

Colored cardstock
Plastic bags (quart or gallon; Ziploc preferred)
Paper towels
Sticky notes (Post-its are preferred)
Markers
Crayons
Colored pencils
Paper towels