Media Center Policies and Schedules

GRADES K-5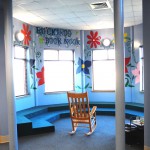 All classes visit the media center weekly. Each class will visit the Media Center on the same day each week.
OPEN ACCESS
Students are offered open circulation times during the morning, older students during the day and after school.
LIBRARY ASSISTANTS
We have student assistants in grade 4 who collect, shelve and circulate books in the morning.
OVERDUE BOOKS
We do not charge fines for overdue books. Overdue notices are sent to classrooms every other week. If books are not returned or renewed at that time, a notice including the cost of the book is sent home. Students cannot check out new items until over-dues are returned or paid for.
LOST OR DAMAGED ITEMS
Students are expected to pay for lost or damaged items. A receipt is sent home to the parents when we receive payment. We are quite happy to return money for any books that are later found.
OUR GOAL
Our purpose is to develop independent library users. Students are taught to access, use, and evaluate information from a wide variety of formats. They are exposed to a myriad of authors, illustrators, and literary genres.
OUR CURRICULUM
The curriculum we follow is based on the International Society for Technology in Education Standards for Students. Activities during media lessons are integrated into the classroom curriculum, so the lessons have meaning for the students.
OUR SPECIAL PROGRAMS
To promote a love for and an interest in reading, the media center celebrates many special occasions. Throughout the year we encourage students to become involved in Read Across America, North Carolina Children's Book Award voting in all grades, and our twice yearly Scholastic Book Fairs. Book fairs are held in fall and spring. The funds generated from these fairs help purchase prizes for our many activities, bring special visitors to the media center and school, and allow us to purchase books and other special items for student enjoyment.
OUR CHECKOUT POLICIES
Students in grades K may check out one book, students in grades 1-3 may check out two books and children in grades 4-5 may check out 3 books. We are open for checkout every morning from 7:50 to 8:30, plus weekly check out time with their class. They may have additional books if they are involved in a project for their class. Each class has a specified day to come in for their library lesson and book check-out, but students are also encouraged and invited to come in any day to exchange books in the morning and after school.