Leadership at Dana
Dana Elementary School has been implementing a whole-school transformational process called The Leader in Me, which teaches 21st century leadership and life skills to students and creates a culture of student empowerment based on the idea that every child can be a leader. Our school will be conducting surveys to learn more about key areas of strength and areas of needed growth in our school. The data from these surveys will also help us track the impacts of The Leader in Me process and implement key practices more fully. In order for us to have a holistic picture of what is going on in our school we are asking all full-time staff members, parents/guardians, and students in grades 4 and up to participate. Below is additional information about the process and content of the surveys.
Parent/Guardian Participation
If you decide to participate, you will be asked to complete a survey (without sharing your name or other identifying information) that will be available through a web link we will send out next week. The survey is completely voluntary, but we do hope to get feedback from one member of every household.
The parent/guardian survey takes about 20 minutes to complete and will ask questions about your child and about his/her experience in our school. If you have more than one child attending the school, you will be asked to think about the oldest child's experiences as you answer questions related to their growth.
Leader in Me Parent Survey Spring 2019
Coming SOON!!!

Check back for information on our next Leadership Day.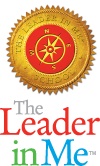 Leader In Me
The Leader in Me is a school-wide model, based on The 7 Habits of Happy Kids, that promotes a school culture built on leadership and community. The goal is to create a learning environment focused on the whole individual and their place in the classroom and larger community.

Here are the 7 Habits we use to guide us to success: