Supply Lists for 2019-2020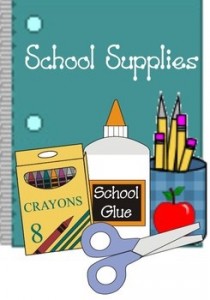 ***All students will need to bring a pair of Ear Buds or Headphones for use in the Computer Lab. These will be in baggies and separated by class.
We always appreciate any extra supplies you can give to our school!
Kindergarten
1 backpack (must fit in cubby, no rolling backpacks as per school policy)
3 boxes 24 count Crayola Crayons
2 boxes Kleenex
12 glue sticks
4 Fat pencils
2 canisters of Clorox Wipes
3-ring 1 ½" view binder (with cover insert) with an inside pocket (please write your child's name inside)
Headphones (no earbuds)
Boys
1 box snack-size zip top bags
1 box 2-gallon size zip top bags
1 bottle instant hand sanitizer
2 containers of Play-Doh
Girls
1 box sandwich-size zip top bags
1 bottle of Elmer's glue
1 box of 1-gallon-sized zip top bags
1 box Crayola Washable Markers – fat
1st Grade
18 Elmers School Glue Sticks
4 boxes of Crayola crayons
1 pair of FISKARS safety scissors
4 large pink erasers
1 3-ring 2 inch binder (with clear cover insert)
5 black and white composition books
2 boxes of tissues
2 plastic folders with pockets
2 containers of CLOROX wipes
24 TICONDEROGA pencils
1 roll of paper towels
1 cigar size pencil box
1 box gallon size Ziploc bags
Headphones
4 black Expo markers
1 wooden ruler
$5.00 for classroom subscriptions
Boys:
1 box quarts size Ziploc bags
Girls:
1 box sandwich size Ziploc bags
Optional and greatly appreciated:
White Cardstock
Hand sanitizer
Paper plates
Plastic utensils
2nd Grade
1 large pencil pouch (no pencil boxes)
1 pair of FISKARS scissors
*6 ELMERS washable glue sticks
*1 box of CRAYOLA crayons
2 plastic folders with bottom pockets and brads
1 clipboard (regular size)
4 composition books (NOT spiral)
2 large boxes of facial tissue
2 large rolls of paper towels
1 box of sandwich size zip top bags
*1 container of CLOROX wipes
2 boxes (24-count) DIXON TICONDEROGA #2 pre-sharpened pencils
2 highlighters (any color)
*1 box CRAYOLA colored pencils
$10.00 for classroom/home online subscription
Headphones for Computer Lab
Index cards
Boys
1 box WIDE CRAYOLA markers
Girls
1 box of THIN CRAYOLA markers
Optional items needed throughout the year:
Baby wipes
Colored/white cardstock
Expo markers
*Items that will need to be replenished after the Winter Break.
3rd Grade
2 boxes of tissues
3 black/white composition notebook
1 spiral notebook with 3 holes punched in side
1 zippered binder
1 three-hole punched pencil pouch to go in binder (no pencil boxes)
At least 36 #2 Ticonderoga pencils, pre-sharpened
18 glue sticks
1 (24 pack) of Crayola crayons
4 packs of pencil top erasers
1 pair of Fiskars scissors
1 package of 4 dry erase Expo Markers
1 package of 24 colored pencils
2 vinyl 2-pocket folder with brads
Boys: 1 box sandwich sized baggies (zippered)
Girls: 1 box gallon sized baggies (zippered)
Headphones
Needed, but not required:
Clorox wipes
3×3 inch post-it notes
Extra Ticonderoga pencils
Hand sanitizer
4th Grade
2 packs of #2 pencils (Ticonderoga are preferred – better for our pencil sharpener)
10 glue sticks
2 packs of pencil top erasers
Red ink pen
Scissors
Twistable crayons
Expo Markers, pack of 4
1 large zipper binder (Trapper Keeper)
1 zippered pencil pouch
2 composition-sized notebooks (math and ELA), any color
2 spiral notebooks (science and writing), any color
3 plastic folders: MUST have one yellow, one blue, and one green
2 packs of Clorox wet wipes
2 boxes of tissues
1 pack of wide-ruled notebook paper
1 set of earbuds or headphones for the computer lab
Teacher wish list:
Colored and white card stock
Colored office paper
Crayola crayons
Crayola markers (bright colors are preferred)
5th Grade
1 pencil pouch with 3 holes
1 composition book (black and white with no holes)
1 spiral notebook with holes
2 packs of loose leaf, wide ruled notebook paper
1 two-inch 3-ring binder or Trapper Keeper
2 boxes of tissues
4 Expo dry erase markers
4 plain pocket folders (solid colors) with holes

Note: If the binder you select has a built in organizer in the front, the folders are not needed.

2 containers of cleaning wipes
1 pair of scissors
1 pencil box for storing supplies
1 handheld pencil sharpener with lid
1 pack of pencil top erasers
16 glue sticks
Pencils
Colored Pencils
$3 for developing pictures
Headphones or ear buds for Computer Lab
Additional Notes:
Some binders have handles and can be used in lieu of a book bag.
Some binders are too large to fit in book bags, you may want to check sizes before purchases.
The brands of supplies listed above are to be purchased using parental discretion. Your child's supplies may need to be replenished through the school year according to his/her needs.
Ms. Taddei and Mrs. Bandy's List
Required
2 packs baby wipes
3 containers of Wet Ones
1 box gallon sized zip lock bags OR sandwich bags
Scissors'
2 plastic pocket folders with prongs
Water bottle to keep at school
Change of clothes
White glue
2 big pink erasers
5 subject spiral notebook
Headphones
Requested
Hot glue sticks (the thickest kind)
Expo markers
Clorox wipes
Pencils
Daily snack