Due to the age of this article, the information below could be outdated or incorrect.
By Holly Kolorova, EC/ESL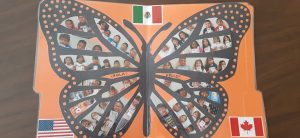 Ms. Corpening and Ms. Kolarova's students participated in the Symbolic Monarch Migration program this year. The Hendersonville affiliate of Bee City USA has generously provided funding for the project.
As described by the organizers, students join "more than 25,000 children from across the United States and Canada in creating paper butterflies to send to Mexico for the winter. The symbolic butterflies' fall flight is timed to correspond with the living monarchs' actual journey south. As the real-life monarchs cluster in Mexico for the winter, the symbolic butterflies will be delivered to schools in the monarch sanctuary region.
Next March, after the living monarchs' departure from Mexico, groups of paper butterflies will also return north to classrooms, carrying special messages from the students in Mexico.  United by the monarch butterfly, children across North America learn authentic lessons of conservation and cooperation. "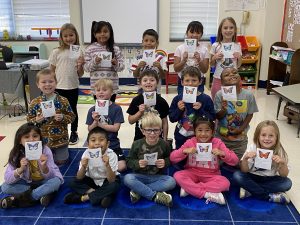 Students have learned about these amazing monarchs which are the only butterflies that migrate like birds. They travel as far as 3,000 miles to rest approximately 5  months in the mountains.  Their arrival coincides with the Dia de los Muertos celebrations.  The monarchs are thought to represent the souls of their deceased loved ones.  Miraculously, the butterfly descendents make the trip back north in the spring.  Clear Creek Kindergarten classrooms observe  the real monarch lifecycle in the spring months. Students are amazed to realize that the billions of monarchs currently migrating to Mexico are the 4th or 5th generation of the butterflies they released.
Clear Creek students look forward to being ambassadors of friendship with the students in the US, Canada, and Mexico.